The Russian Aid Convoy Is in Ukraine. So Is Russian Artillery, Says NATO
Katherine Jacobsen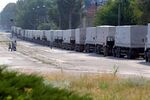 Soldiers, tanks, missile launchers, and a marching band filled Kiev's central street on Friday evening, all part of a rehearsal for Ukraine's upcoming Independence Day parade on Aug. 24. Earlier on Friday, on the country's eastern edge, a different kind of parade was taking place as a convoy of Russian humanitarian aid trucks crossed the border into Ukraine.
The scenes could not be more different, yet both are important parts of the same story. The first, in Kiev, tells of the military might Ukraine wishes it had, but that's buoyed more by patriotism than by actual strength. The second shows the reality of Ukraine's eastern front: Despite a series of impressive gains into rebel-held territory, the Ukrainian army still has no control over strategically significant parts of its border with Russia. Enter a much disputed aid convoy.
"The whole aid mission is just a Trojan horse," says Tatiana Doroshenko, speaking over the noisy parade rehearsal going on behind her along Kiev's Khreshatik Street on Friday evening. "It's all just provocation from Russia," she says, echoing the accusations the Ukrainian government has hurled at the Kremlin over Russia's aid convoy, which is comprised of some 270 Kamaz military trucks covered in white tarp. When the trucks crossed the Ukrainian border today without permission from Kiev, Ukraine called the move a "direct invasion."
NATO has heightened the sense of menace by announcing that Russian artillery had been detected on the Ukrainian side of the border. A NATO spokeswoman added that since mid-August the alliance has received many reports of Russian airborne, air defense, and special forces operating in eastern Ukraine. This marks the first time NATO has said openly that it has proof of a Russian troop presence in Ukraine, says Alex Brideau, senior analyst at political risk consulting firm Eurasia Group. Vitaly Churkin, the Russian ambassador to the United Nations, has said that no Russian artillery or military personnel are in Ukraine.
Despite the movement of troops and equipment by Russia, Brideau says he believes that Russian President Vladimir Putin does not want a full-scale invasion of Ukraine, and that keeping the separatist movement alive and chipping away at Ukraine's military are enough to keep the situation unsettled without resorting to all-out war. In this scenario, Brideau says, the hostilities in the east go on well into the fall. "This is still a long-term crisis."
Back in Kiev, military hardware rumbles by in the parade rehearsal. "Hopefully this military equipment will all end up going east afterwards," says Yuri Khainsky, 36, adding that the parade, though slightly controversial for its celebratory nature during war time, is a good thing. He can't remember the last time the country's Independence Day parade had included any sort of military equipment. And if there were any year to show off Ukraine's guns, he says, this is it.
Before it's here, it's on the Bloomberg Terminal.
LEARN MORE