Matthew McConaughey's New Acting Challenge: Selling Lincolns
by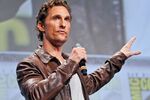 All right. All right. All right. Matthew McConaughey is going to pitch some Lincolns.
Not the giant Navigator or the swanky Town Car offspring, the MKT. The Oscar-winning Texan will help Ford roll out its new family-friendly crossover, the MKC.
"Lincoln's a classic American brand that's now making a transformation into the luxury market," McConaughey says in a promotional video Lincoln posted on Thursday. "And driving the MKC, I think they're doing a good job of that." The car has "good shoulders and hips," according to McConaughey, and helps one shut "out the rest of the world."
Among luxury car leading men, McConaughey, 44, will be going up against Jon Hamm (Mercedes), Tom Hardy (BMW), Neal McDonough (Cadillac), and Ricky Gervais (Audi). He has a two-year deal to perform as a "storyteller" for the brand.
The pick makes some sense for Lincoln, which is currently enjoying underdog status among luxury carmakers. The brand can't outclass the Germans or Cadillac, so it might as well play as an iconoclast. McConaughey is a bit of a rebel in Hollywood—though he also just won an Oscar for best actor.
What he has yet to do, however, is convince the public that he's the kind of guy who drives a family car. Automotively speaking, we are used to seeing McConaughey in two kinds of cars: little European numbers and big American boats.
In Failure to Launch, McConaughey drove a 1969 Porsche 911. In a recent Dolce and Gabbana ad, he squired Scarlet Johansson around New York in a 1960s Alfa Romeo Spyder.

And then there are the seminal McConaughey rides. In Dazed and Confused, he drove a 1970 Chevrolet Chevelle SS named "Melba Toast." In Dallas Buyers Club, it was a Dodge Monaco of the same era. In the real world, he's been known to rip around in a 1981 Chevy Camaro Z28.

These cars just seem to kind of fit the public image of McConaughey, a guy who seems natural as an aging male stripper and who blasted Brazilian music in order to "get tribal" during the birth of his first child. Can McConaughey move some Costco-capable crossovers? Sure: After all, he's an actor. But this is the Lincoln that suits him best:

Before it's here, it's on the Bloomberg Terminal.
LEARN MORE