Smart Girls Prove Lucrative for Lego
by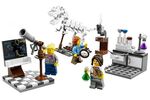 I was going to buy the new Lego Research Institute—a set featuring a female paleontologist, astronomer, and chemist—for my daughter. Too late. It came out earlier this month and is already sold out in many stores and on Lego's website; on Amazon.com today it's going for triple the original $19.99 price.
Lego released the set as one of its limited editions, which often sell out. But there are signs that the demand for smarter, more adventurous girls' toys has legs. This spring, Hasbro attributed its sales success in part to its new Nerf Rebelle line of guns and bows and arrows designed for girls.
Charlotte Benjamin, a 7-year-old who wrote a letter to Lego earlier this year that went viral, put it better than anyone else: "All the girls did was sit at home, go to the beach, and shop, and they had no jobs but the boys went on adventures, worked, saved people, and had jobs, even swam with sharks."
Naturally there are things to quibble about when it comes to the new Lego scientists: They're wearing lipstick, for instance. But they're not "girly" in the way that, say, Mattel's "career" Barbies are. (No veterinarian I've ever met wears hot pants.)
And plenty of parents aren't thrilled, or at least may be conflicted, about girls (or boys) playing with toy bows and arrows. Nor do they see the need to mangle the word "rebel" or offer the bows and guns in a range of colors from purple to pink. Companies usually say that's what girls tell them they want. That may be true. It's also true that more likely than not their brothers won't want to borrow a pink gun with swirly designs. They'll want their parents to buy them one of their own.
Before it's here, it's on the Bloomberg Terminal.
LEARN MORE