In Defense of the New Reality Show Sex Box
By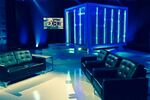 I don't watch much reality TV. It's not that I think it's stupid, or that I'm somehow too good for it (anyone who's seen Pauly Shore's Son in Law as many times as I have has no business judging anyone). I just have trouble buying into the silly premises. I don't believe that hot women competing for a hot man's attention will, in just a few episodes, fall in love and have a healthy, lasting marriage, no matter how many roses he gives out. I don't want to hear strangers covering Whitney Houston songs, I don't care if Bristol Palin knows how to dance, and I keep up with the Kardashians just fine because they're everywhere.
But there is one reality TV genre I do like: the shameless and absurd. I might not watch The Bachelor but I lament the cancellation of Blind Date. I watched a My Strange Addiction episode about a person who was "addicted" to eating couch cushions. My favorite reality concept is Killer Karaoke, where contestants sing pop songs while they're, say, attacked by Rottweilers or dunked in a tank full of eels. And I don't have any problems with the new WE tv show Sex Box, which is about people who have sex in a box.
"Sex Box is one of the most unique and compelling show concepts we've ever seen," WE tv President Marc Juris told the Hollywood Reporter, which is basically television executive-speak for "Ha ha, we convinced people to have sex in a box."
Sex Box is based on the hit U.K. reality show of the same name. The American version, which makes its debut next year, will feature real couples who already know each other (and who, presumably, have already had sex outside the box). If it's anything like the original, we won't actually see any of the sexy, boxed-in action. But we will watch them emerge flushed and disheveled, then immediately sit down and explain what they did to a panel of experts, which, in WE tv's version, will include a Beverly Hills relationship therapist, a licensed sex therapist, and a Florida pastor.
Sample revelations from the U.K. show include:
"Sometimes I sort of [ask] like, 'Does it hurt?' 'No no no, it's fine, keep going!'"
"Stop stopping!"
"We tried a few different things and they didn't all work for us today. … Only I 'arrived,' I would say."
"I feel OK. … I could've done with a bit more time."
"She said, 'I bet you're just a five-minute wonder.' I said, 'No no, I could go for hours.' And then I did, I literally did. It was one big massive challenge. But never again because I nearly passed out. The dehydration was incredible."
The British show is both funny and awkward—basically what all dating reality shows strive for. And aside from its title, it's no less ridiculous than watching strangers marry each other, people forced to live in the wilderness, or the antics of someone named Snooki.
In fact, Sex Box may actually have more substance than other dating shows. The couples in the British version—who're bold enough to do the deed on television, mind you—often struggle to talk openly about something we all know they did. They blush. They giggle. They use vague terms instead of describing specific moves. That's pretty telling. Despite all the sexts and Snapchats, or the fact that nearly 13 percent of all Web searches are for erotic content, people still don't like to talk about sex very much. If that's true in Britain, it'll be doubly so in America, where censorship laws are often stricter and morals run more conservative. When it comes to sex, Americans do a lot of Googling but very little talking. Maybe WE tv will be able to change that. Although don't expect them to let you see into the box.
Before it's here, it's on the Bloomberg Terminal.
LEARN MORE