The Difficult Questions Raised When Some Patients Get Untested Drugs
By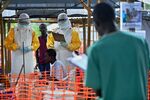 This week, two aid workers afflicted with Ebola who were allowed to take experimental drugs were released from Emory University Hospital in Atlanta, apparently recovered from the deadly virus. In Grace City, N.D., Laura Kulsrud watched and wondered why her three sons haven't been allowed to test the new drugs that might save their lives.
Kulsrud learned three years ago that her boys have a rare, life-threatening genetic disease called PKAN. The disorder keeps them from properly metabolizing vitamin B5, causing muscle spasms and tightening known as dystonia. PKAN patients usually show symptoms by age 10 and often die before they reach adulthood. The biotech company Retrophin is developing a therapy, called RE-024, that shows promise in animal tests. Kulsrud is appealing to regulators to let her sons try it. "As parents, we just want to see our kids live," she says.
The Ebola-infected aid workers were treated with an experimental drug known as ZMapp. Ebola is estimated to kill as many as 90 percent of victims, though the mortality rate in the current outbreak appears to be closer to 60 percent for now. It's not clear what role ZMapp played in their recovery.
RE-024 is in a similar stage of development as ZMapp, with no clinical trials yet conducted on human subjects. The first two human patients, both outside the United States, got access to RE-024 when their doctors requested it. One was pulled off the drug after two weeks because of elevated liver enzymes and resumed on a lower dosage, according to Retrophin filings from June. The company is in discussions with regulators to start clinical trials that would help establish whether the therapy is safe and effective in humans—questions that for now are unanswered.
The Kulsruds have spent the past year asking the U.S. Food and Drug Administration to let their kids—Lane, 13; Tanner, 11; and Ty, 9—test RE-024. They've met with their representatives in Congress and gone to Washington to meet with the FDA. Although Laura Kulsrud says her children's neurologist and Retrophin want to proceed with treatment, the agency hasn't approved early access to the therapy. (Retrophin declined to comment on the record Friday.)
Some states are passing "right to try" laws intended to help people in similar situations. But even under those policies, Retrophin's PKAN drug wouldn't be made available, because it hasn't passed the first stage of safety testing.
Medical science moves slowly and methodically. Through clinical trials, doctors learn about both the risks and the benefits of a treatment and come to understand in which cases the benefits outweigh the risks. If an experimental therapy meant to cure patients hastened their death, that would compound an already tragic situation. "There's a reason for all of that infrastructure, and it's to protect the patients," Coleen Klasmeier, a former FDA attorney who now represents drug companies at Sidley Austin, told me.
That's a frustrating reality for people in the Kulsruds' position. That some Ebola patients are getting access to preclinical therapies, possibly because of public pressure created by the global media spotlight on Ebola, is more frustrating yet. "Why is their life any more important than these three boys?" Kulsrud asks.
It's not. There may be valid reasons for allowing Ebola patients access to untested drugs, and equally valid reasons for regulators to tell PKAN patients they must wait for further safety research to be done. But untold numbers of people like Kulsrud's kids are outside the spotlight, waiting and hoping for better answers than they have now.
Before it's here, it's on the Bloomberg Terminal.
LEARN MORE