Measuring China's Resilient Economy
By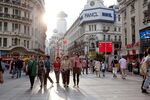 Are China's economic juices flowing like baijiu at a banquet or coagulating like the remnants of yesterday's hotpot? Official data are often distrusted. A growing database of alternative indicators—ranging from same-store sales at Kentucky Fried Chicken to apartment sales in top cities—provides a different way to understand the world's second-largest economy. Here's what the data say.
The main concern about China's economy in the second half of 2014 is a slump in the real estate sector. Fading construction threatens to hit demand for everything from steel to furniture. The official figures paint a depressing picture, with sales falling in July and work on new projects following them down. Alternative indicators from private real estate agencies point in the same direction. Statistics from China Real Estate Information Corp. show that sales in China's top 30 cities in July were down 45 percent year on year.
The effects of the slowdown in real estate are rippling across the industrial sector. The official data indicate that increases in factory output are slowing. Electricity production, which even Premier Li Keqiang checks as a measure of economic activity, suggests that factory output could be flatlining. Electricity output decelerated to a 3.3 percent annual growth rate in July. That's the slowest in more than a year.
Some see electricity as an infallible guide to China's true health. In fact, anything from less air-conditioning to supply outages could explains July's low figure.
There are also signs that high-end consumption is down. Hong Kong jewelry sales and revenue at Macao's casinos—both widely used to track the spending of China's rich—are both falling. It's tempting to draw a straight line between General Secretary Xi Jinping's crackdown on corruption and the decline in demand for the finer things in life. That's too simplistic. BMW's China sales are still in the fast lane—hardly consistent with a stall in China luxury spending.
The middle-class consumption story also remains intact. Retail sales were registering solid 12.2 percent year-on-year growth in July, according to official figures. Alternative indicators paint a similar picture. Sales of passenger cars are in high gear. Yum! Brands—owner of KFC—reports that Chinese consumers continue to find its chicken wings worth paying good yuan for. It's possible that fading real estate and slowing wage growth will puncture China's consumer confidence. It hasn't happened yet.
Exports are another strong point. Overseas sales have been expanding at the fastest rate, say official data, since April 2013. Alternative indicators point in the same direction. The movement of containers at Shanghai's port—a highly visible marker of trade volume—is accelerating. As the U.S. economy picks up, demand for "made in China" is rebounding with it. The fall in the yuan in the first half of the year—taking a few cents off the U.S. price of Chinese goods—didn't hurt exports either.
Inflation appears under control. Government figures show a muted 2.3 percent year-on-year increase in consumer prices in July, considerably below Beijing's 3.5 percent target for the year. Alternative indicators suggest prices might even be falling. The Alibaba Internet Shopping Price Index puts prices for goods bought on the company's Taobao and TMall online marketplaces in deflationary territory. Deflation like what has happened in Japan would be a worrying sign. In this case, though, greater competitive pressure online, rather than weakness in demand, is probably pushing prices down.
Animal spirits appeared a little lacking in the July loan statistics. Total social finance—China's broadest measure of credit—collapsed to the lowest level since the Lehman crisis. That raised fears of fragility in the banking sector and weak demand for credit from businesses. Alternative indicators paint a less pessimistic picture. A stronger flow of initial public offerings in the past few months, as the China Securities Regulatory Commission opens the door to new listings, points to a healthy demand for growth capital.
Finally, a trawl of the news reveals that fears of an imminent collapse in China's growth have eased. A search for stories with the words "China" and "hard landing" shows a fall to 86 stories in July from a recent high of 175 in June. News coverage also confirms that China's government has kept its stimulus in the "mini" category. A little more than 1,000 stories used the words "China" and "stimulus" in July, compared with a high of 2,900 in March 2009—the time of the government's 4 trillion yuan splurge.
China's official data have become an easy target for criticism. More than a decade of reforms at the National Bureau of Statistics have made many of those criticism ungrounded. A review of the best available alternative numbers reveals a story strikingly similar to that told by official statistics. Real estate is weak, and that is denting industrial production. But overseas sales are resilient, and so is consumption by China's middle class. With inflation low and stimulus efforts so far limited, the government has scope to do more to boost China's economic growth.
Before it's here, it's on the Bloomberg Terminal.
LEARN MORE