Bank Lobby Website Trolls CFPB
By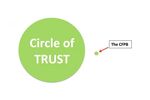 The Consumer Financial Protection Bureau is planning to launch a new website that would post customers' firsthand accounts of their bad experiences with banks and other financial-services companies—and the banks, predictably, aren't happy about it. So what are they doing? Building their own website in response. Earlier this week, the Financial Services Roundtable, an industry lobbying group, launched CFPBrumors.com, a goofy little site purporting to explain why the CFPB can't be like Yelp or Angie's List.

At issue is a CFPB plan to increase the amount of information shared online about complaints lodged with the agency by consumers. Rather than disclosing just general information about complaints, the CFPB plans to post the actual narratives lifted from complaints filed by angry customers, complete with the names of the institutions being targeted. (Customer information will be scrubbed.)
"We think that you would have consumers that are getting the wrong impression," says Francis Creighton, executive vice president of government affairs for the Financial Services Roundtable. Although financial-services companies would have the opportunity to post responses, the group argues that privacy laws would prevent companies that are accused from effectively defending themselves against false allegations. "As an industry, we're not going to win any popularity contests right now," Creighton acknowledges. "But we do have a responsibility to protect our brand, protect our relationship with our customers."
The CFPB says it's just picking up a strategy successfully employed by other agencies, like the Consumer Product Safety Commission. "It is disappointing that some members of the financial services industry perceive their own customers' complaints as rumors," CFPB spokesperson Jen Howard said in an e-mailed statement. "Complaint narratives about consumer products and autos are published by other government agencies and provide real benefits. We would hope that honest businesses would welcome this same sunlight in the financial services market."
Along with its website, the FSR's campaign against the proposed change includes ads in D.C. metro stations and an ad buy on social media. The CFPB's period for public comment on the issue was scheduled to end today, but the agency has extended it for an extra month. In comments at a field hearing last month, CFPB Director Richard Cordray compared the online database of complaints to a mosaic: "While every tile on the mosaic shows only one tiny piece of the picture, you can step back from it and see how the tiles fit together to form the whole picture."
Before it's here, it's on the Bloomberg Terminal.
LEARN MORE