African Bank Failure Forces Real People to Seek Funding
Renee Bonorchis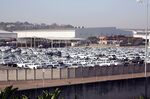 Real People Investments Holdings Pty Ltd., a South African provider of small loans, is in funding talks with development finance institutions after the collapse of African Bank Investments Ltd. wiped out demand for corporate bonds.
"It takes more time and it means more work and there's probably less bang for your buck," Chief Executive Officer Neil Grobbelaar said by phone from Johannesburg yesterday. "We can probably go a year without selling a bond. It's been a tumultuous time and the South African capital markets are going to be a tough place for businesses like ourselves."
African Bank, the country's largest provider of unsecured loans, had to be rescued by the central bank on Aug. 10 after mounting losses caused investors to withdraw funding. Johannesburg-based Real People lends to small businesses and individuals who want to renovate homes or privately educate their children. It has sold 30 rand bonds and Swedish and Norwegian securities since 2011, according to data compiled by Bloomberg.
"We're fortunate because we have access to other forms of funding," Grobbelaar said. "We can prove we have a different quality of customer from Abil and show what the loans are used for. Our assets are shorter dated than our liabilities."
Canceled Bonds
The closely held company still plans to complete the sale of asset-backed securities this year and sell a 2-billion shilling ($22.6 million) Kenyan bond.
Toyota South Africa Pty Ltd., South Africa's biggest car dealer, and the local unit of Bayerische Motoren Werke AG canceled bond sales this month, citing a lack of investor appetite in the wake of African Bank's collapse.
Abil's shares and bonds were suspended on Aug. 11 with senior bondholders told to expect a 10 percent haircut while subordinated debt holders may get nothing.
While Moody's Investors Service cut South Africa's biggest lenders' local-currency debt ratings on Aug. 19, Fitch Ratings said today African Bank contagion would be limited for the larger banks.
"The fallout from African Bank's resolution will not be material as underpinned by the small exposures the large five banks have to the failed lender," the London-based rating agency said in a statement today.
Before it's here, it's on the Bloomberg Terminal.
LEARN MORE