Usher's Honey Nut Cheerios Commercial Knows Its Audience
By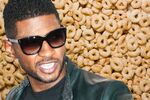 You might have just gotten "Must Be The Honey" out of your head. Now General Mills is implanting the brand in an ad featuring Usher's recently released song "She Came To Give It To You."
A new ad shows Usher and BuzzBee having a dance-versation (like what sign language would be if you had to use dance moves instead) about heart health, of all things. (For the dance-challenged, there are subtitles.) Unlike "Must Be The Honey," General Mills left the song's lyrics unchanged, instead relying on Usher's sexy slickness to seduce viewers into buying more Cheerios.
"We saw great results from the Nelly ad, as we hope to with the Usher ad. But at the core they have two distinct messages," said Gail Peterson, General Mills' associate marketing director for Honey Nut Cheerios. Nelly made the cartoon bee more hip; Usher is bringing the heat to cardiac wellness.
That's a very grown-up message, but Usher has broad appeal—with 50.5 million Facebook fans and 9.7 million Twitter followers, which makes him a seriously popular spokesman for any product. (Plus, better moves than recent Cheerios spokespet Grumpy Cat.) Surveys by E-Poll Market Research show that Usher's appeal is particularly strong among, basically, everyone: parents, teens, and women, as well as among African American, Asians, and Latinos identify him as talented and stylish.
For Cheerios, featuring nonwhite Americans has become a cornerstone of its marketing strategy. Cereal has been losing ground to other kinds of breakfast foods, but not among people of color, particularly Latinos. Hispanic households are more likely to have consumed 21 or more servings of cold breakfast cereal in the last 30 days, according to to research by Packaged Facts. The Usher ads continue Cheerios' multiracial appeal, which in turn carries its own marketing momentum: its ads featuring a multiracial family created surprising controversy, followed by tremendous positive attention for the brand.
Before it's here, it's on the Bloomberg Terminal.
LEARN MORE