The $299 Pot Business Seminar, Weed Not Included
By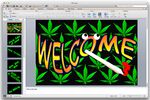 KC Stark likes to call himself the "Steve Jobs of weed." He might be exaggerating a little. But in a business still in its infancy as legal commerce, who knows?
Stark is the co-founder and chief executive officer of MMJ Business Academy, which coaches aspiring pot entrepreneurs on how to acquire licenses and grow, monitor, package, market, and sell weed in states where it's legal as a medical or recreational aid. "We've worked with thousands of people. We've seen thousands of solutions to thousands of problems," he says.
Stark's main qualification for dispensing this advice appears to be running a medical marijuana shop in Colorado Springs for six months before selling it in 2010. He also cites his five years in the U.S. Army. "You have to have the element of surprise, know your enemy, and plan, plan, plan," he says. "There are a lot of casualties in the marijuana business. They see the money, and they think it's easy. It's not."
Stark is in Chicago this week to host a two-day seminar at which 50 people are paying $299 to hear him and his partner, an attorney, tell them how to open legal pot businesses in Illinois. He's one of a growing number of newly minted consultants seeking to help people—from unemployed schoolteachers to wealthy private equity managers—who envision a "green rush" in legal reefer. Almost 400 budding pot entrepreneurs paid $5,000 apiece to apply for licenses in Nevada before the state's deadline this week. And a campaign to legalize recreational pot in Oregon said it would spend $2.3 million on television ads. "If you know what you're doing, it's $3,000 a pound," Stark says. "More than truffles."
Stark shows up 25 minutes late for lunch at an Italian restaurant, wearing two-tone shoes, a black vest, a blue dress shirt with white collar and cuffs, a Bulova watch, and a Bluetooth in his left ear. A silver brooch shaped like a marijuana leaf adorns his tie. In a 90-minute conversation, he talks fast, invoking Henry Ford, Timothy Leary, and Michael Dell. At one point, his cell phone rings. "That's the Russian venture capitalist," he says, and lets the call go.
At Stark's side is a 28-year-old MMJ Business Academy staff member who calls himself "Mr. Nashville" and videotapes some of our conversation. Stark goes by KC because he's originally from Kansas City, declining to give his own age or his real first name (47 and Phillip, according to public records). He says he's been using marijuana since the second grade, when older kids gave him some. "I didn't know I was supposed to be stupid and lazy, so I wasn't stupid and lazy," he says.
Stark and his academy are based in Colorado, one of two states where marijuana is legal for recreational use (Washington is the other). He runs a private "cannabis club" in Colorado Springs as well as websites that list marijuana businesses for sale and that help consumers find marijuana physicians. A new venture is "Women on Top," training sessions for female pot entrepreneurs.
But Stark's focus at the moment is helping those who have $299 to trade for his counsel. If things go well, he says he might even take MMJ Business Academy public so the whole U.S. can get a piece of his action. "My biggest problem is keeping up with my success," he says before heading off to call that Russian venture capitalist.
Before it's here, it's on the Bloomberg Terminal.
LEARN MORE