Rupee Volatility Rebounds on Modi's First Setback: India Credit
Kartik Goyal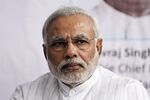 The first setback for Prime Minister Narendra Modi's attempt to open India's economy helped boost rupee volatility from a six-year low, raising the prospect of further losses for Asia's worst-performing currency.
The currency's three-month implied volatility, a gauge of expected swings used to price options, has climbed 150 basis points from 6.13 percent on July 29, which was the lowest since June 2008, to 7.67 percent. The rupee slid 3.3 percent in the past three months to 60.46 per dollar, the biggest loss in the region, as Modi sought to deliver on a pledge to spur investment and end the worst growth slowdown in a decade.
The government's push to raise a limit on foreign investment in insurance was thwarted by the opposition, eroding confidence in its ability to implement politically sensitive decisions. Risks to the rupee would mount should Modi fall short of expectations for pro-market policies, at a time when the prospect of a U.S. interest-rate increase and conflicts in Iraq and Ukraine damp demand for emerging-market assets, according to HSBC Holdings Plc.
"The rupee is facing greater headwinds," Paul Mackel, HSBC's Hong Kong-based head of Asian currency research, said in an e-mail interview on Aug. 20. "The risks are that the pace of reforms doesn't meet expectations, and that cross-market volatility could suddenly pick up because of geopolitical risk or the uncertainty surrounding the Fed."
Rupee Forecasts
Europe's largest bank by market value now sees a risk that its prediction for the rupee to gain 0.8 percent to 60 per dollar by year-end may not be met, according to Mackel. HSBC's forecast matches the median estimate of analysts in a Bloomberg Survey. Citigroup Inc., the world's biggest foreign-exchange trader, sees the Indian currency slipping to 62 by Dec. 31.
During a parliament session that ended last week, opposition lawmakers scuppered Modi's attempt to revive a bill proposing a higher cap of 49 percent on foreign investment in insurance. The delay in the legislation, pending since 2008, is hampering the expansion plans of insurers including American International Group Inc., Standard Life Plc and MetLife Inc. The setback robs Modi, who needs insurers' funds to meet his infrastructure overhaul goals, of an opportunity to lure investors during a proposed visit to the U.S. next month.
The prime minister also faces opposition to his plans to open up the economy from his own allies. Modi must resist calls to open the economy to the likes of Wal-Mart Stores Inc. and AIG, Ashwani Mahajan, co-head of the Swadeshi Jagran Manch, an economic policy group linked to the ruling Bharatiya Janata Party, said in an interview.
'Struggle to Deliver'
"Even though the Modi government has all the right intentions, they are likely to struggle to deliver on the promises," Arun Singh, an economist at Dun & Bradstreet Information Services India Pvt. in Mumbai, said in an interview yesterday. "The markets will be disappointed if the delivery of reforms fall short of the huge expectations."
Options signal a drop in confidence in the rupee. Three-month contracts offering the right to sell the Indian currency cost 176 basis points more today than those to buy, up from this year's low of 98 in June. The so-called risk-reversal rate is still lower than an average 224 basis points in the past year, data compiled by Bloomberg show.
Most Asian currencies declined this week as the U.S. Federal Reserve indicated it may increase interest rates sooner than anticipated. Conflicts from Gaza to Iraq and Ukraine have also hurt demand for riskier assets.
Geopolitical Risks
"The rupee's recent weakness is due to what happened on the geopolitical front and concerns about rate hikes in the U.S.," Ashtosh Raina, Mumbai-based head of foreign-exchange trading at HDFC Bank Ltd., said in an interview yesterday.
The move to allow more investment in insurance faltered at a time when inadequate rainfall threatens the economy and reduces scope for the RBI to spur growth by cutting interest rates. The monsoon, which brings more than 70 percent of the country's annual rains, will be 13 percent below average this year, according to the weather department.
CPI inflation may quicken to about 9 percent by year-end due to the rain shortage, according to Elara Securities Pvt.
RBI Governor Raghuram Rajan has raised borrowing costs three times since taking office in September 2013 to rein in price pressure. He left rates unchanged in the last meeting on Aug. 5. The central bank's benchmark rate is at 8 percent, compared with 3 percent in China and 7.5 percent in Indonesia. The 10-year government yield in India is 8.50 percent, compared with 4.18 percent in China and 8.20 percent in Indonesia.
The central bank will need to raise rates by another 50 basis points to reduce inflation, Ashish Kumar, an economist at Elara Securities in Mumbai, said by telephone on Aug. 21.
"The optimism about faster reforms has been quite unreal and what happened to the insurance bill is likely to happen to land, labor and the revenue reforms," he said. "Legislative approval for policy changes will remain difficult, while the absence of structural reforms will be negative for the rupee."
Before it's here, it's on the Bloomberg Terminal.
LEARN MORE