Student Debt Threatens the Safety Net for Elderly Americans
A growing number of Americans 60 and older have student debt
By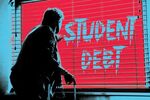 Until his Social Security check arrived almost $300 lighter last June, Eric Merklein, 67, didn't know he had outstanding student debt. He'd taken out a loan about 40 years ago to attend Southern Illinois University and believed it had been repaid by his grandmother after he graduated in the early 1970s. When he contacted the Department of Education to ask why he was getting less in his check, Merklein says he was surprised to learn the government was withholding a portion of his benefit to cover the debt.
Merklein is among the more than 2 million Americans age 60 and older carrying student debt, up from about 700,000 in 2005, according to the Federal Reserve Bank of New York. The debts are from old loans like Merklein's and more recent ones that older Americans take to go back to school or pay for college for their kids. In total, this group has $43 billion in unpaid loans, five times what they owed in 2005. The average debt also has risen by more than 60 percent since 2005, to around $20,000 per borrower older than 60.
The government has the power to seize portions of the pay or Social Security checks of those who've stopped paying their federal student loans. It can also confiscate tax rebates. Borrowers can negotiate a repayment plan with the government to get out of default.
From January through July of this year, the government withheld money from the Social Security checks of 140,000 people, according to Department of Treasury data. A decade ago, a third as many seniors lost part of the benefit to pay off loans.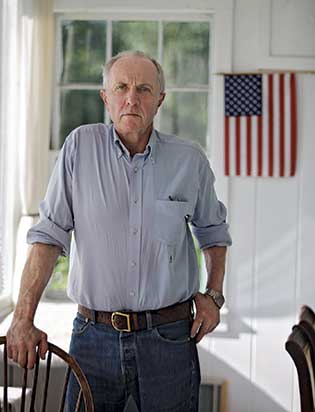 Some education debt researchers are concerned lawmakers aren't taking the plight of older borrowers seriously. "They're probably not politically ever going to get the attention to do much here," says Ben Miller, a senior policy analyst at the New America Foundation. "The challenge is getting people to recognize that student debt goes beyond just younger adults." Massachusetts Democratic Senator Elizabeth Warren introduced a bill in June that would let students who took out loans anytime before July 2013 refinance their debt at current, lower interest rates, but the measure didn't pass in the Senate.
The government is required to contact debtors before reducing their Social Security checks. Merklein says he was never notified. He says his grandmother gave him an envelope with a receipt showing his loan had been paid in full, but he lost it.
A Department of Education spokesperson declined to comment on Merklein's situation, but said the department is required to give borrowers a chance to contest the government's withholdings and to repay the debt. Merklein—whose $3,750 student debt increased to $21,118 because of interest and default fees—was able to stop the deductions from his Social Security check after agreeing to a voluntary repayment plan with the government. He works full time as a video editor and makes $50-a-month payments to Pioneer Credit Recovery, a government contractor. The amount will be renegotiated after he makes nine payments in 10 months.
George DuVan, 65, of Carson, Calif., took out two loans, including a federal one, totaling $14,000 in 2009 to pay for a pharmacy technician class at a local for-profit college after he was laid off from his job as a salesman at Burlington Coat Factory. He didn't get a pharmacy job, and now works part time as a department store stock clerk earning less than $10 an hour. He collects about $1,400 a month in Social Security. The government isn't withholding his benefits because DuVan opted to make monthly payments of $115 on the federal loan. "I'm making minimum payments," he says, "and I am struggling with them."
As baby boomers age, student loan debt is likely to become a bigger problem. Some 4.7 million Americans in their fifties owe education debt, up from 2.3 million in 2005, and the total amount is three times as high as it was nearly a decade ago, according to the Treasury Department. Debbie Crotinger, 55, borrowed about $10,000 in the early 1990s to attend a community college in Garden City, Kan. She was working full time, raising three children, and never received her degree. She works as a kitchen manager in Oklahoma. The government garnishes about a fifth of her $1,200 monthly paycheck to pay down the loan. "I figure I will be paying it off the rest of my life," she says.
Deanne Loonin, an attorney at the National Consumer Law Center, says a better way of addressing the problem would be to forgive the debt held by the most vulnerable borrowers—those who aren't able to make regular payments and sustain a minimal standard of living. She says there's no limit to how long the government can try to collect student debt: "In human terms that means, literally, that it follows them to their graves."
BOTTOM LINE -
The bottom line: Older Americans, who hold 5 percent of all U.S. student debt, owe nearly five times as much as they did in 2005.
Before it's here, it's on the Bloomberg Terminal.
LEARN MORE