New Zealand Court Freezes Kim Dotcom's Assets, Again
By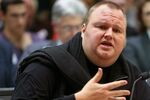 The Internet entrepreneur accused of running a massive global piracy ring suffered a rare setback in his adopted country today. The New Zealand Court of Appeal extended for another year the restraining orders over some of the assets and property belonging to Kim Dotcom. The ruling "means millions of dollars, several luxury cars, jewelry and other property remain frozen," the New Zealand Herald reported. The original 2012 orders were scheduled to expire in April after a lower court ruled in favor of Dotcom. Now they will extend to April, 2015.
As the U.S. government and Hollywood studios have taken aim at Internet piracy around the world, one of their biggest targets has been Dotcom, the founder of file-sharing service Megaupload. The company operated one of the most popular websites in the world before the feds shut it down in 2012 and indicted him for allegedly running a multimillion-dollar business unlawfully offering online access to movies and TV shows. Dotcom created a company with "a business model designed to encourage theft," Motion Picture Association of America general counsel Steven Fabrizio said in a statement in April when the six big studios filed a complaint in federal court.
That hasn't stopped Dotcom from gaining a significant following in New Zealand, where he has successfully avoided extradition. Indeed, with the South Pacific country's elections scheduled for next month, Dotcom is trying to become a major figure in the campaign, even though he's not a citizen and can't run for office himself.  He is the founder of the new Internet Party and has helped forge an alliance with the Mana Party, which fights for the rights of New Zealand's indigenous Maori people.
Dotcom is appealing to young voters with a platform that advocates tuition-free university education, inexpensive broadband Internet access, and renewable energy. "I want to mobilize the youth to go out and have a voice in politics," he told Bloomberg News at a dance party/campaign event he organized last month in Wellington, the capital.
Although he says Internet-Mana is close to the 5 percent threshold needed to land a seat in Parliament, a poll published July 27 by Colmar Brunton put the alliance's support at just 2 percent. Winning a bigger following might be harder now that the appeals court has frozen his assets. Dotcom argues his prosecution is not about the law. "My novel case is entirely political," he wrote on Twitter after today's ruling. "It started political & it will end political."