Tough Times Continue at Colt, as the Gun Company Restates Its Financials
Paul M. Barrett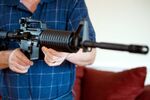 In a May Bloomberg Businessweek feature article titled "Why Colt Can't Shoot Straight," I chronicled the strangely persistent financial woes of America's famous firearm manufacturer. Now there are new troubles at the company's West Hartford (Conn.) headquarters.
From my May dispatch:
"Despite high regard for the M4 [military rifle] and a growing consensus that the company has put some of its quality-control problems behind it, Colt, owner of one of the best-known brands in firearms—or any industry—finds itself again on the edge of financial disaster. It showed a net loss on declining sales for the first quarter of 2014, and its long-term bonds merit junk ratings from Standard & Poor's (MHFI) and Moody's (MCO). 'Colt's very weak credit measures, if they persist, could make refinancing difficult for the company when its bonds mature in 2017,' S&P said in an April 1 analysis."
On Aug. 12, in a filing with the Securities and Exchange Commission, Colt disclosed that it will restate its results for 2013 because of a recently discovered "material" error. The filing, signed by Scott Flaherty, chief financial officer, elaborated:
"The financial statement contained in the company's annual report … should no longer be relied upon due to an error contained in these financial statements that the company believes is material. The error is attributable to the lack of recognition of the impact of a contract modification related to the M-240 machine gun program for the U.S. Government."
Colt said that it would adjust its 2013 gross margin down by about $2.7 million. It added: "Management has concluded that the effect of the restatement is indicative of a material weakness at December 31, 2013. As a result of the material weakness, management has concluded that the company's internal control over financial reporting and disclosure controls and procedures were not effective at December 31, 2013."
I contacted Colt Tuesday to ask whether the material weakness in its financial reporting might portend other errors beyond the machine-gun contract. A spokeswoman didn't respond to my e-mail.
Without additional context from the company, I'll go back to my feature story from May:
"For historians, collectors, and even some investors, it's a sorry kind of déjà vu, as Colt has been haunted by commercial crisis for many of its 178 years. In particular, the past decade has been dominated by some dubious financial engineering and accumulation of a daunting debt load. Adding insult to injury, lawsuits filed by two former senior Colt executives, scheduled for trial in September, threaten to air allegations of a front office tainted by racism and homophobia.

"'The pattern at Colt has been consistent for decades, dysfunction and more dysfunction,' says Cameron Hopkins, an industry consultant and former editor-in-chief of Firearm Marketing Group, publisher of the magazines American Handgunner and GUNS. Colt 'always seems to be on the brink,' agrees Richard Feldman, president of the Independent Firearm Owners Association, an advocacy group. 'It's like some kind of weird curse.'"
Depositions are continuing in that lawsuit. Perhaps the trial will shed more light on just what's going wrong at Colt.
Before it's here, it's on the Bloomberg Terminal.
LEARN MORE