What's Next at Colleges: The Bass Bowl?
Fishing gear makers are subsidizing university "bass-letes"
By

On a recent afternoon, Jacob Nummy, a just-graduated 23-year-old political science major, picked up a few career tips he didn't get during his classes on the workings of bicameralism or the separation of powers. Use rock salt to calm your fish for the weigh-in, veteran professional angler Mark Menendez solemnly advised. Pour Coca-Cola on a bass that bleeds. And lose the facial hair; corporations don't like it. "Sponsorship is about what you can do for them," he told Nummy and the other young fishermen gathered in the Yamaha Motor tent at the Carhartt Bassmaster College National Series Championship near Lake Chatuge in Georgia. "It's about selling. They want a cleanshaven face. They want your shirts tucked in."
Bass fishing offers a glimpse of college sports without the supervision—or the insistence on amateurism—of the National Collegiate Athletic Association, which scrutinizes revenue-producing football and basketball programs and monitors athletes who play without pay. Companies are eagerly reeling in talent to showcase their brands in front of fans of the fastest-growing school competition most people have never heard of. Some universities have even begun offering fishing scholarships and paying coaches.
Wearing jackets with the logos of Yamaha, Shimano, MoonPie, and other brands, academic anglers pursue sponsorships and receive discounts on the sport's pricey equipment in exchange for helping gear makers sell more boats, fishfinders, rods, reels, lures, and life vests.
Nummy, who graduated from Auburn University's Montgomery (Ala.) campus in May, says he's received freebies or discounts on engines, oil, and propellers. "I don't mind doing a seminar for Yamaha," he says. "They sponsored me through this entire thing. They came after me because they saw that I loved fishing and that I could appeal to the true anglers, which is a dying breed. I'm also working out a deal with a boat company."
Competitive bass fishing began in 1967, when Alabama insurance salesman Ray Scott founded the Bass Anglers Sportsman Society in Montgomery and organized the first tournament on an Arkansas lake. Over the next three decades, BASS helped transform what had been a bucolic hobby into an industry that generated $31 billion in U.S. retail sales in 2012, according to the American Sportsfishing Association.
Sports broadcaster ESPN bought the organization in 2001, selling it nine years later to an investor group led by Don Logan, former chairman of Time Warner's media and communications group. BASS now has more than half a million members, a magazine, and a weekly television show. It owns the tournament series that leads to the Super Bowl of bass, the Bassmaster Classic, where anglers in high-powered boats race across the water in search of their quarry and are judged by the pounds of fish they catch. The top prize is $300,000.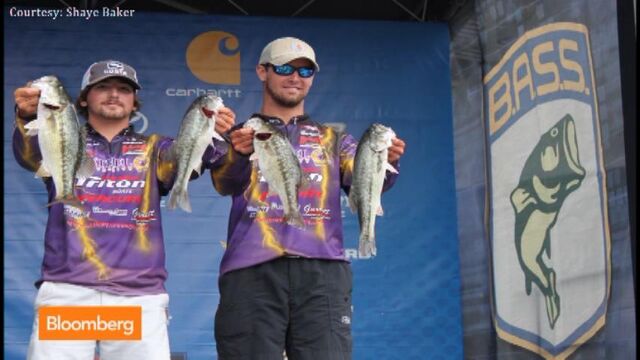 BASS initially had local clubs and competitions for college students but no Classic-like national tournament. In 2011 the organization created both a national title for the best two-person collegiate bass team and an opportunity for one angler to be recognized as the college fisherman of the year. (Schools can send multiple teams to the championship.)
Concentrated in the South—53 of the 83 teams that qualified for the 2014 championships were from colleges in the region—the sport mainly draws from state universities, two-year schools, and Christian institutions such as Bethel University in McKenzie, Tenn., a fishing powerhouse that pays coaches and offers scholarships. At most schools, the pursuit is classified as a club sport. Three years ago there were only 49 participating teams. This year, teams from 58 colleges qualified for the national finals after a series of regional fishing matches.
Fishing gear makers have compelling motives for embracing these college bass-letes. The number of Americans who fish declined to 46 million in 2013, from 52 million in 2007, according to a report by Take Me Fishing, a project of the Recreational Boating and Fishing Foundation. About 38 percent of those who fished last year were 45 or older. Forty-one percent didn't attend college; even people who fished as kids tend to stop when they reach college age.
Children had no organized route to emulate the bass pros they idolized, says David Ittner, tournament and professional staff manager for Yamaha, which sponsored a recent meet-the-pros night at Young Harris College near Lake Chatuge. "Yamaha realized it had concentrated on the pros at the expense of growing the sport," he says.
Outdoor and work clothes company Carhartt is the collegiate championship's title sponsor. Other backers include engine makers Yamaha and Toyota Motor; Mercury Marine, which manufactures boats, engines, and other nautical equipment; Bass Pro Shops Outdoor World, which sells all things piscatorial; and two brands of electronic fishfinders, Johnson Outdoors' Humminbird and Navico's Lowrance.
"This is very, very, very important to our business," says Tom Branch, Navico's college recruiter, who says he'd never heard of collegiate bass fishing when he took the job a year ago. "We have to run a business that is going to grow youth fishing."
For colleges, a fishing program attracts a wider range of students, says Jennifer Glass, a spokeswoman for Bethel University. The financial assistance the program offers has drawn students who might otherwise never think of attending a private college, she says. Bethel also has teams and offers scholarships for bowling and inline skating.
Hank Weldon, who manages the Carhartt tournament, says BASS tries to preserve a spirit of amateurism by awarding prize money to schools, not athletes. And, unlike NCAA-sanctioned sports, fishing doesn't have divisions by school size. BASS sets the competitions' rules and allows sponsors because the sport is expensive. Even motor oil "runs $55 a gallon," Yamaha's Ittner says. "That would be difficult for any college kid."
Encouraged by their success with college anglers, BASS and the industry are tapping an even younger demographic. Yamaha in May signed a 15-year-old Texas boy to its professional team, and BASS started a high school championship in January. There are as many participants in the new tournament as at the college level, Weldon says. "When you think about it, there are a lot more high schools than colleges," he says. "It's a much larger pool."
Before it's here, it's on the Bloomberg Terminal.
LEARN MORE