Drivers, Brace Yourselves: Labor Day Travel Forecast Hits Six-Year High
by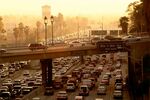 Nearly 35 million Americans will travel over the coming Labor Day weekend, the most in six years, thanks to cheaper gasoline prices and more families feeling better about their finances.
Most of those, 29.7 million, will drive, the AAA said today in its annual Labor Day travel forecast, up from 29.3 million in 2013. Another 8 percent will fly, the Florida-based motor association said. Separately, the U.S. airlines' trade group predicted that 14 million Americans will fly for the holiday, 2 percent more than last year.
The average U.S. retail pump price is $3.44 per gallon, the lowest mid-August level since 2010, AAA said. Of the lower 48 states, Oregon has the highest average price, $3.89, while gas is cheapest in South Carolina, at $3.14. A year ago, gasoline was an average $3.59 per gallon on Labor Day.
One reason for the lower fuel prices is supply: U.S. oil producers are ramping up domestic production, and refiners are churning out record high levels of gasoline. U.S. oil production will hit 8.5 million daily barrels this year and 9.3 million per day in 2015, the highest since 1972, the federal Energy Information Administration said this month in its short-term energy forecast. In July, refiners processed 16.5 million barrels of crude per day, the most since 2005, Bloomberg News reported, citing U.S. data.
Among those flocking to airports, the lobbying group Airlines for America said today that it expects a 2 percent increase in air travelers, to 14 million over the six days around Labor Day, with the busiest day Friday, Aug. 29. AAA said airfares are 2 percent higher than in 2013, while rental vehicle rates have remained flat at $51 per day.
"This year, Americans are more optimistic about their financial situation," AAA's chief operating officer, Marshall Doney, said in a news release. "Consumer spending continues to outpace disposable income, indicating that Americans are comfortable using their credit cards to take one last summer vacation this year."
Before it's here, it's on the Bloomberg Terminal.
LEARN MORE