Business Tries to Stop San Diego's Minimum Wage Hike
Trade groups fund a ballot measure to undo the city's new law
By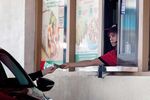 Labor activists celebrated on Aug. 18, when San Diego's Democratic-led city council overrode a mayoral veto and raised the minimum wage to $11.50 an hour. The council also guaranteed workers as many as five days of paid sick leave a year. The vote seemed like a decisive victory over Republican Mayor Kevin Faulconer. "The city council is standing up and demonstrating that we value honest work and fair pay," its president, Todd Gloria, said after the vote.
Yet even before the raise became city law, business groups, including the California Restaurant Association and the San Diego Regional Chamber of Commerce, were already mobilizing a campaign to reverse the council's decision through a referendum. They created the San Diego Small Business Coalition, which is headed by Jason Roe, a political consultant to the mayor. Lobbyists, including one hired by the American Hotel & Lodging Association, have also been involved. The group has 30 days from the council's vote—until Sept. 17—to collect the almost 34,000 signatures required to put the issue before voters. They may end up spending as much as $500,000 to pay people to canvass door-to-door and outside supermarkets. It's too late to make the ballot for this year's congressional midterms, so even if proponents get the necessary support, the referendum likely won't appear on the ballot until the next general election, in 2016. Until then, the pay raise would be on hold.
Washington, D.C., passed an $11.50 wage last year; Seattle approved a $15 minimum in May. In those cities, the opposition largely dried up after the laws were enacted. San Diego, which has a conservative establishment but an increasingly liberal electorate, is a different story. "We have attracted a lot of support from national trade organizations because they have seen an opportunity in San Diego to stop this that they haven't had in other cities," Roe says. "Some have offered financial support, and some have offered—we'll call it moral support."
San Diego's pay raise follows California's decision to boost the statewide minimum from $8 an hour to $10 by January 2016. The city council initially considered a $13.09 minimum—the wage that the Center on Policy Initiatives, a liberal advocacy group, estimated a single adult living in San Diego without children would need to cover basic living expenses. But Gloria, the council president, agreed to lower the target to $11.50, phased in over three years, to appease business leaders.
It didn't work. After Faulconer vetoed the measure in early August, Roe says the business community was "somewhat hopeful" that it could win over the one additional council member needed to defeat an override. When that tactic failed, Roe turned to pursuing a voter initiative. "We believe that there is a public will to see this on the ballot," he says.
Supporters of the new wage law are starting a counter-campaign, urging voters to reject the ballot petition and let the statute stand. That effort is backed by Irwin Jacobs, the billionaire former chairman of Qualcomm, who co-wrote an op-ed in the San Diego Union-Tribune asking members of the local business community not to pursue "an expensive and divisive" campaign. Rather than driving businesses away from the city, Jacobs argued, higher wages and paid sick leave will improve worker productivity and ultimately help the local economy. "Let's not throw good money after bad," wrote Jacobs and Mel Katz, who heads the temp agency Manpower San Diego. "Please drop the referendum threat."
Katz, a former head of the San Diego Regional Chamber of Commerce, says he's been asking "sympathetic" business owners for as much as $10,000 apiece to pay for mailings and leaflets distributed by Raise Up San Diego, a coalition of community groups, clergy, and unions. The group is also raising smaller amounts from its supporters and plans to send out volunteers to make sure voters aren't "duped" by canvassers hired by the Small Business Coalition, says Robert Nothoff, a policy analyst at the Center on Policy Initiatives, who is helping run the Raise Up campaign. "We're asking them not to sign anything, period."
BOTTOM LINE -
The bottom line: National groups are ponying up to put San Diego's just-passed minimum wage law to a popular vote.
Before it's here, it's on the Bloomberg Terminal.
LEARN MORE