With Racist Slur, Clive Palmer Inflames Australia-China Ties
By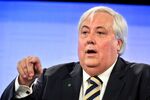 Not long ago, mining tycoon Clive Palmer was eager to work closely with Chinese partners. In particular, the Australian businessman-turned-politician teamed up with state-owned Citic Pacific on a $2.5 billion plan to extract low-grade iron ore from the outback, the world's biggest such project.
Palmer doesn't seem to feel as positive about cooperating with China these days. Indeed, the maverick founder of the political party—named for himself—that provides the swing votes in the Australian Senate has created a crisis with the country that's the largest market for Australian exports.
Embroiled in a fight with Citic Pacific over the iron-ore deal, Palmer went on Australian television Monday night and called his erstwhile partners "Chinese mongrels." He went on to say that Chinese "want to take over our ports and get our resources for free" and that "because they are communists, they shoot their own people, they haven't got a justice system, and they want to take over this country."
The official Chinese media aren't taking this quietly. Calling Palmer's criticism a "vicious attack," the Global Times published an irate editorial, denouncing his "rampant rascality" and referring to him as one of the "prancing provocateurs" in need of a lesson about what happens when they rile China. The newspaper called for sanctions, against not only Palmer and his companies but also companies that do business with him.
Australian politicians, including Prime Minister Tony Abbott, are trying to contain the damage. The conservative Abbott, who depends on the Palmer United Party's three votes in the upper house of Parliament, called the comments "destructive" as well as "simplistic and counterproductive." He told ABC Radio, "I think the Chinese appreciate Australia enough to understand that Mr. Palmer just speaks for himself on an issue like this, and he certainly isn't speaking for Australia."
Abbott shouldn't count on all Chinese to be quite so forgiving. While the official Xinhua news agency says Palmer's statement "by no means represents the mainstream voice of Australia" and points out that politicians, including Foreign Minister Julie Bishop and Treasurer Joe Hockey, have criticized him, the Global Times editorial says the maverick politician's behavior is just another sign that Australia "has an unfriendly attitude toward China."
The problem isn't just about one Australian politician miffed about a soured business relationship. Buried in the editorial is a telling reference to China's worries about Japanese Prime Minister Shinzo Abe and his attempts to create an alliance to counter China's moves in the East and South China Seas. While the Chinese are livid about Abe's attempts to revise Japan's postwar pacifist constitution, Australia is cheering him on. "Japan is changing its constitution, which frees them up," Defense Minister David Johnson told Bloomberg News last week. Australia is hoping to improve military ties, including purchases of Japanese submarine technology, and after working closely with the Japanese self-defense forces on peace-keeping operations, he said, "exchanging technology is a very important part of taking it to the next level."
That helps explain the anger in China. "Australia has picked sides and embraced the U.S. and Japan, but in the meantime, it keeps racking up economic profits from China," thundered the Global Times. "This situation is making it a radical 'double-dealer' among all the nations which have relationships with China."
Before it's here, it's on the Bloomberg Terminal.
LEARN MORE