Taylor Swift, Rule Follower, Releases 1989 in Completely Expected Way
By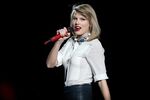 If you want to understand how the music industry works, all you have to do is follow Taylor Swift. Justin Bieber is poised for an implosion. Beyoncé is a little too powerful—few artists can drop a new album with absolutely no promotional campaign, price it at $15.99, and sell 830,000 copies in the first weekend. But Swift is the sort of megastar who always plays by the rules. She releases one album every other fall and promotes it with a big arena tour; the one for her last album, 2012's Red, lasted seven months. She endorses Diet Coke and Keds. Her love songs are so idealized that she actually wrote one about Romeo and Juliet.
Taylor Swift does not try something new until she knows that it will work—and that she can do it right.
Over the last few weeks, Swift had been posting "clues" on her Instagram account about an announcement she'd make on Aug. 18. Fans knew another album was in the works, and they correctly guessed that Aug. 18 wouldn't be its release date but the day she announced the release date. "Taylor Swift is dropping the least subtle clues ever about her new album," observed Cosmopolitan UK. And just to make doubly sure that everyone knew what was happening, last week Swift announced her upcoming announcement on the most traditional platform of them all, The Tonight Show.
The new album, 1989, has 13 tracks and a lead single, Shake It Off, which Swift premiered with fanfare on—that's right—Aug. 18. The full album will come out in October, just like her previous albums. A "deluxe" version will include bonus tracks. Absolutely none of this is surprising. Swift is a safe, solid pop star embarking on a pretty traditional album campaign that's been slightly updated (Instagram clues, a Yahoo! stream, a Skype chat) to conform to the technological times.
As one of the top-selling music acts around, Swift could be much more experimental if she wanted to. She could go full-on Beyoncé and abandon all promotion. She could drop the album, literally, from the sky. Or, more apropos to her public persona, she could personally deliver every copy nestled in a picnic basket next to a kitten.
But Taylor Swift doesn't play like that. She does things smoothly and cleanly so that they turn out as shiny and perfect as her red lipstick. Red was produced by Swedish hit-making machines Max Martin and Johan "Shellback" Schuster and is being marketed with the help of corporate sponsors Target and Walgreens. Shellback and Martin are back for 1989, which is being promoted with concert ticket giveaways and meet-and-greets with fans.
Over the next few months, Swift will start making the appropriate TV appearances and giving another set of charmingly candid interviews. Much will be made about how 1989 is Swift's official switch from country pop to regular pop, even though her transformation has been going on, little by little, for years. That's how Taylor Swift works. It's safe. And it works every time.
Before it's here, it's on the Bloomberg Terminal.
LEARN MORE