Target CEO Charts Comeback Plan With Benefit of Low Expectations
Renee Dudley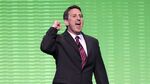 Target Corp. has reduced its financial outlook twice since Brian Cornell was named chief executive officer three weeks ago. Now the company's new leader has to show he can clear that lower bar.
After Target announced Cornell's hiring on July 31, the Minneapolis-based company said on Aug. 5 that its second-quarter profit would fall short of its goals and then trimmed its annual forecast yesterday, signaling that a turnaround isn't coming as soon as analysts had predicted.
Target is still suffering with stagnant U.S. sales growth, a money-losing foray into Canada and the fallout of a hacker attack last year. Cornell, who started the job last week, has vowed to bring a sense of urgency back to the company. As he sets about fixing the mess, the CEO will have the benefit of diminished expectations, said Brian Yarbrough, an analyst at Edward Jones & Co. in St. Louis.
"This is definitely worse than we had anticipated," said Yarbrough, who has a buy rating on Target's stock. With a lower hurdle to success, the new company has "the opportunity to beat and exceed."
Target now expects full-year earnings of $3.10 to $3.30 a share, excluding some items, down from a previous forecast of as much as $3.90, according to a statement yesterday. Analysts had predicted $3.44, the average estimate compiled by Bloomberg.
Through the gloom, Target pointed to bright spots in its second-quarter report yesterday. The company saw U.S. same-store sales begin to rebound in July and the sales continued to improve in August during early back-to-school shopping, said Chief Financial Officer John Mulligan.
Cautious Consumers
Still, Target has had to rely heavily on promotions and discounts to coax customers into stores, squeezing its gross margin by 1 percentage point to 30.4 percent.
"Consumers continue to act very cautiously," Mulligan, who served as interim CEO before Cornell was hired, said on a conference call with reporters. The heavy promotions and the hesitant nature of consumers were two reasons behind the company's reduced outlook for the year, he said.
The prospect of rebounding sales brought solace to investors after a 4.6 percent stock drop this year. The shares gained 1.8 percent to $60.33 yesterday in New York.
Target's woes had led to the ouster of former CEO Gregg Steinhafel in May. That cleared the way to hire Cornell, a PepsiCo Inc. executive, as Target's first outsider CEO.
Canadian Struggles
One of Cornell's priorities is fixing the company's troubled foray into Canada last year. While comparable-store sales were unchanged in the U.S. last quarter, they decreased 11 percent in Canada. Target blamed the drop on the fact that the locations had grand-opening events in 2013, generating traffic that was hard to match this year. The Canadian business also lost $204 million before interest and taxes in the period, compared with a $169 million deficit a year earlier.
Canadians, who for years shopped at Target just over the border in the U.S., have been unimpressed by its expansion into the country. They found prices at the local stores were higher, while the retailer failed to keep enough merchandise in stock. Target, which hired a new leader to run the operation, said this month it will begin matching rivals' prices and improving its supply chain in a bid to change that impression.
Cornell said yesterday that he visited Canada in his first week on the job. The 55-year-old also has been consulting with Target's management on its strategic direction in the three months since Steinhafel left.
'Sense of Pace'
"We have to have a sense of urgency here and a sense of pace," Cornell said on a conference call. "While I want to study the business and certainly and listen and learn from our team, no one is happy with our current performance."
Target also reported $148 million in breach-related expenses in the quarter, including money set aside to cover existing and potential claims related to the data theft. Those expenses were partly reduced by $38 million in insurance.
Hackers struck the company last year during the height of the holiday shopping season, tarnishing its reputation and hampering sales. Target's slow reaction to the breach also drew criticism from lawmakers such as Senator Jay Rockefeller, a Democrat from West Virginia.
Unlike Steinhafel, a 35-year veteran of Target, Cornell brings experience from a variety of businesses to the role. In the past three decades, he's worked for at least six different companies, including PepsiCo, Wal-Mart Stores Inc., Michaels Stores Inc. and Safeway Inc.
"You can expect me to dive in very quickly to understand the business, to look for the opportunities and to work with the leadership team to develop very focused priorities as we go forward into 2015 and beyond," Cornell said yesterday.
Before it's here, it's on the Bloomberg Terminal.
LEARN MORE