Stevens Says Confidence Better Growth Driver Than Rate Cuts
Michael Heath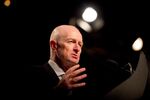 Reserve Bank of Australia Governor Glenn Stevens said the nation's economy needs an injection of confidence rather than lower interest rates to stimulate growth, signaling policy will probably remain unchanged.
"I don't really think interest rates are the answer just at the moment; that could change if something else happens," Stevens told a parliamentary panel in Brisbane today. "We need this environment where there's more confidence to move ahead. I cannot make that happen."
The RBA has kept its cash rate target at a record-low 2.5 percent since August last year as it seeks to foster a transition from waning resource investment to other sources of demand. While housing construction is picking up, businesses are yet to embark on any significant expansion, leaving economic growth below its long-term average.
"The RBA implies that patience is important and policy has limitations," said Su-Lin Ong, head of Australian economic and fixed-income strategy at Royal Bank of Canada, who yesterday put back her call for higher rates to the fourth quarter of 2015 from the second. The testimony "hints at some frustration about -- as well as explanation for -- the disappointing growth pulse, especially in the non-mining investment space."
The Australian dollar traded at 92.96 U.S. cents at 5:01 p.m. in Sydney, compared with 92.94 cents before Stevens began his testimony.
Jobless Rate
Australian employers have been squeezed by a currency that averaged more than 90 U.S. cents for the past seven years, compared with about 70 U.S. cents in the 20 years prior. This has been exacerbated by a slowdown in mining investment that the government projected last week will result in the loss of more than 12,000 jobs in the next four years.
Australia's jobless rate has jumped to a 12-year high of 6.4 percent from 6 percent in June, which the central bank said Aug. 8 is unlikely to fall in a sustained way before 2016.
"The thing that is most needed now is something monetary policy can't directly cause: more of the sort of 'animal spirits' needed to support an expansion of the stock of existing assets," Stevens said in his statement. Businesses currently are "less focused on implementing plans for growth," he said.
Wesfarmers Ltd., Australia's biggest private-sector employer, said today that it spent A$2.75 billion ($2.6 billion) on dividends and a one-off capital return in its fiscal year through June. That's more than double its A$1.22 billion of net capital spending over the period.
Money Back
The country's biggest retailer said it would give a further A$1.1 billion back to shareholders through a capital return and proposed A$1.15 per share in final and one-time dividends, amounting to another A$2.41 billion of payouts.
"I don't think we're sitting on our hands" about investing, Managing Director Richard Goyder said on a media call. "We're just disciplined about giving money back to shareholders."
Traders are pricing in 7 basis points of reduction in the cash rate over the next year, according to swaps data compiled by Credit Suisse Group AG. Even so, the Australian dollar has climbed more than 4 percent this year.
"The exchange rate, another channel through which monetary policy usually has an effect, is probably not doing as much as it might usually be expected to do in achieving balanced growth," Stevens said in the opening statement of his semi-annual testimony.
Material Fall
The risk of a material fall in the Australian dollar is "underestimated," Stevens said. Intervention to stem the currency's rise remains part of the "toolkit" should it be appropriate, while the central bank wouldn't give advance warning of such action, he said.
Goldman Sachs Group Inc. abandoned its forecast for a rate reduction, the last bank surveyed by Bloomberg to do so, and now predicts the board will raise its benchmark by a quarter point in the fourth quarter of 2015. It had previously predicted a cut next month, followed by an increase in June next year.
While Goldman said that risks for rates remain "skewed to the downside" and there was a high probability that further easing would be required, it altered its call because "the RBA's current mindset is that it is reluctant to ease interest rates again in coming months," according to a note today from economists led by Melbourne-based Tim Toohey.
Big Trap
Wesfarmers' Goyder said the company was reluctant to pursue debt-fueled growth because of the risk rates would rise.
"It's a big trap to do things just for growth's sake," he said. Using cheap debt for acquisitions is "making an implicit assumption that low-cost debt will be here for ever, and we just don't make that assumption."
The RBA has lowered its growth and inflation forecasts for the year ahead, citing its expectation that mining investment will "decline much further" and of budget cuts at the state and federal level. Prime Minister Tony Abbott's government is cutting jobs and spending and raising taxes to tackle a budget deficit estimated to have swollen to A$49.9 billion in the year to June.
"My guess is that over the year ahead the growth of real GDP will be around 2 percent to 3 percent: close to trend, but probably a bit below it in the near term," Stevens said.
The central bank hasn't thought about raising interest rates "anytime lately," he said.
Before it's here, it's on the Bloomberg Terminal.
LEARN MORE