Starbucks Coffee Trucks Will Follow Zonked College Students Around Campus
By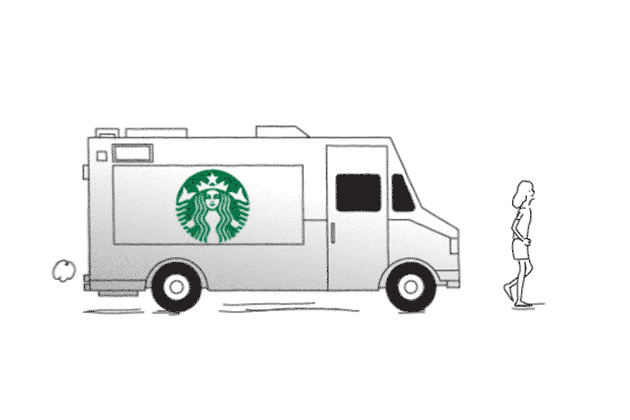 College campuses might be among the few remaining places to escape the shadow of Starbucks. There are roughly 11,500 Starbucks outlets in the U.S., but only about 300 of them are on U.S. campuses. That means most students of the country's 4,700 colleges are buying their coffee somewhere else.
That is about to change at three schools. The ubiquitous chain will peddle caffeine from food trucks at Arizona State University (which has also partnered with Starbucks to offer employees scholarships for its online program), James Madison University in Virginia, and Coastal Carolina University in South Carolina.
Why trucks? They can travel around with students throughout the day, meeting students' caffeine needs wherever they pop up, says Starbucks spokeswoman Maggie Jantzen. Presumably that means parking outside dorms in the morning and by the quad in the afternoon. So if you started to feel like the Starbucks truck is following you between classes, you wouldn't be wrong.

The trucks, operated by food service company Aramark, will help Starbucks reach a coveted demographic. College-age students love coffee. More young adults are "turning to coffee, rather than caffeinated sodas, as their pick-me-up of choice," reported NPR. Not just any coffee—they want the fancy stuff. In an Aramark survey of its college customers, 47 percent said they want to purchase something from a specialty coffee or espresso cafe, and Starbucks was the No. 1 preferred brand for coffee.
On campuses, coffee represents about 18 percent of Aramark's sales, the company says. That's higher than in the fast-food industry overall, where coffee chains represent only about 9 percent of sales.
Colleges are a laboratory for Starbucks. The company is trying to find new store formats beyond the typical retail outlet "that allow us to reach traffic that we never had access to previously," said Chief Financial Officer Scott Maw during an earnings call in July, and colleges offer institutional advantages for piloting a food truck operation.

"A college campus was the ideal setting to test the mobile truck," said Aramark spokeswoman Karen Cutler in an e-mail. Campuses offer parking, multiple retail locations, and access to a commissary setup to prepare the items.
Starbucks has tried trucks before, on a similarly small scale. For now, don't expect fleets of caffeine delivery services to meet the high-end espresso needs of students nationwide: Jantzen says Starbucks doesn't yet have plans to bring the trucks to other campuses.