The Senator Trying to Save the Post Office
By
Senator Tom Carper (D-Del.), is one of few people in Washington who has been trying to fix the nearly bankrupt U.S. Postal Service. Even since 2010, when the USPS declared that its business model was broken, Carper, chairman of the Senate Committee on Homeland Security and Governmental Affairs, has been trying to get a bipartisan reform bill through Congress that would address many USPS short-term problems. He's even trying change the rules, so the USPS can deliver beer.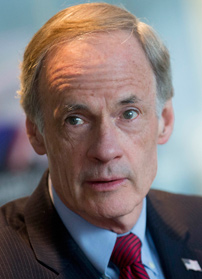 Naturally, Carper is fuming that 50 senators signed a letter last week seeking a measure that would disrupt his progress. His colleagues have asked the leaders of the Senate Appropriations Committee to halt U.S. Postmaster General Patrick Donahoe's plan to close what Donahoe describes as 82 unnecessary mail-processioning facilities next year. The move would help get the agency back into the black. In a statement yesterday, Carper accused them of abdicating their responsibilities. "This latest round of closures isn't the first time the U.S. Postal Service has had to implement potentially damaging cost-cutting measures on its own in order to reduce costs," Carper said. "In the absence of comprehensive postal reform, it probably won't be the last."
Carper is right. In February, the Senate Homeland Security Committee passed a bill introduced by Carper and Senator Tom Coburn (R-Okla.) that would pull the USPS back from the brink. It would lower the USPS's current annual $5 billion future retiree health-benefit payment, which has been crushing the agency, accounting for nearly all  its losses. The bill would also enable the USPS to eliminate Saturday delivery in the fourth quarter of 2017 if volume falls below 140 billion pieces of mail a year, as the agency expects.
Carper admits that it's not perfect, but the bill is a step in the right direction. Unfortunately, this is an election year. Democrats and Republicans are predictably pandering to special interest groups. The Senate letter parrots the American Postal Worker Union's talking points about how shutting distribution centers will eliminate well-paying jobs.
True enough. That's why the 50 senators should support the Carper-Coburn bill that, Carper notes, would keep the 82 processing plants open. Instead, his colleagues are seeking a temporary election year solution that does nothing to solve the USPS's bigger troubles and will increase the possibility that the agency will one day require a taxpayer bailout. "If my colleagues want to address these concerns for the long haul, I urge them to join me this September as we continue our effort to fix this serious, but solvable financial challenge facing the postal service," Carper wrote.
He is trying hard to put a positive spin on things. But it's clear that Carper isn't happy. Nor should he be. After nearly three years of pushing for postal reform, he has nothing to show for it. If the USPS runs out of cash, nobody will be able to say that Carper didn't warn them.
Before it's here, it's on the Bloomberg Terminal.
LEARN MORE