The Nook Tablet Lives, With Help From Samsung
by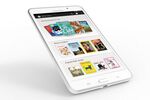 Like a zombie device wandering a post-apocalyptic landscape, the Nook, Barnes & Noble's erstwhile Kindle Fire competitor, grotesquely endures.
The line of 7-inch tablets, largely given up for dead after the book chain failed to sell its hardware division and said it was abandoning the e-reader, embarked on a feeble afterlife of sorts on Wednesday in the form of a co-branded color Android tablet produced in partnership with electronics giant Samsung. The two companies unveiled their device at a media event in New York, adding to a market jammed with Android tablets and dominated by Apple's iPad. The new Nook's odds of success are long, which is unfortunate. Readers, authors, and book publishers—even mighty Amazon itself—desperately need a vibrant Nook.
The device itself has the wrappings of a typical 7-inch Android tablet, much like the Samsung Galaxy Tab. It costs $179, after a $20 rebate, and is now on sale at Barnes & Noble's website and its 660 stores. Users who want to download digital media are directed to the company's digital bookstore, which sits alongside the app-rich Google Play store preloaded on most Android devices. Front and center, though, are books, magazines, and comics. Tim Baxter, president of Samsung Electronics America, said in a statement that Samsung has taken the Galaxy tablet "and made it the best tablet available for reading and entertainment."
Amazon dominates the market for electronic reading, with its Kindle apps on all kinds of mobile devices and its vibrant line of dedicated Kindle e-ink devices. With big rivals such as Apple, Google, and Samsung far more focused on games, apps, and other kinds of digital media, the Seattle tech giant sells about 70 percent to 80 percent of all e-books. The costs of Amazon's dominance continue to reverberate in the marketplace in the form of widespread tension with publishers and the mistrust of authors who depend on Amazon for their livelihoods.
A vibrant Nook, in addition to success for Canadian-based rival Kobo, could offer a much-needed check to Amazon's power. Readers, particularly ones turned off by Amazon's tactics, could use an additional option in the marketplace. Amazon itself might benefit from healthy rivalry in the event the Department of Justice ever starts sniffing around the lopsided balance of power in the book business.
Barnes & Noble has indicated that next year it will spin off its money-losing Nook Media division, which it says will continue to make dedicated reading devices like its Simple Touch and Glowlight e-readers. Many people dismiss the importance of reading-only black-and-white devices, but they are cheap, light, and generally loved by heavy readers. They also continue to get better. Amazon is working on a secret reading device in its Lab126 division that's code-named Ice Wine and said to be super-light and paper-thin.
Such devices could make e-reading easier and more elegant than ever. The market will be better served if companies besides Amazon are making them.
Before it's here, it's on the Bloomberg Terminal.
LEARN MORE