Republican Backed by Bush Advisers Wins Alaska Primary
Kathleen Hunter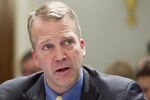 Former Alaska Attorney General Dan Sullivan will challenge incumbent Democratic U.S. Senator Mark Begich in November after winning the state's Republican primary yesterday.
With 99 percent of precincts reporting, Sullivan had 40 percent of the vote to 32 percent for Tea Party favorite Joe Miller and 25 percent for Alaska Lieutenant Governor Mead Treadwell, according to the Associated Press.
The Alaska Senate race looms as a key one in the battle for control of the chamber this November. Begich, 52, is considered "one of the five most vulnerable Democratic senators in the country" as he seeks a second term in Republican-leaning Alaska, said Nathan Gonzales, deputy editor of the nonpartisan Rothenberg Political Report. President Barack Obama twice lost the state by double-digit margins.
Sullivan, 49, served in the President George W. Bush's administration, including three years as an assistant secretary of state. He counts among his backers Bush political adviser Karl Rove and former Secretary of State Condoleezza Rice. Such support ensures Sullivan access to a wide network of Republican donors as he turns to the general election campaign.
Begich, who has led in recent polls, "has had a unique opportunity to sort of run his own race so far because the primary is so late," Gonzales said. "Some of the strength he's showing now might just be a byproduct of Republicans not unifying yet."
Six Seats
Republicans need a net gain of six seats to take control of the 100-member Senate. Analysts rate Democrats the underdogs in maintaining three seats they now hold -- in Montana, South Dakota and West Virginia -- with Alaska among others that are rated as toss-ups.
"It's going to be a pretty bare-knuckled race," Jennifer Duffy, who tracks Senate races for the nonpartisan Cook Political Report in Washington, said of the Alaska race. "Incredible amounts of money are being spent, not just by Alaska standards, but by any standard."
Begich unseated Republican Senator Ted Stevens in 2008 by fewer than 4,000 votes, eight days after the longtime incumbent was convicted on federal corruption charges. A federal judge later set aside the guilty verdict amid allegations of prosecutorial misconduct.
Stevens, whose 40 years in the Senate made him the chamber's longest-serving Republican member, was killed in a 2010 plane crash in Alaska.
July Poll
A CBS News/New York Times poll conducted July 5-24 showed Begich with a 12 percent lead over Sullivan.
In campaign ads, Begich has touted his independence from Obama, who is deeply unpopular in Alaska. Begich said in a January interview with CNN that he had no interest in campaigning with Obama in Alaska and instead would use a visit by him to the state to educate the president on his administration's faulty policies.
Begich also has accused his potential Republican opponents of being propped up by "extreme outside groups" that oppose legislation requiring that women be paid comparably to men for similar work.
In a television ad that began airing this month, Begich claims that Sullivan and Treadwell, 58, "have positions on women's health that are truly frightening," attacking them for opposing government funding for Planned Parenthood and supporting a broad ban on abortions.
Tea Party
Miller's loss makes Alaska the latest state in which a candidate aligned with the small-government Tea Party movement was rejected in a Republican primary this year. His defeat also is a setback for Sarah Palin, the state's former governor and the 2008 Republican vice presidential nominee who endorsed Miller just days before the primary.
Miller, 47, is a Fairbanks attorney who staged an upset victory over incumbent U.S. Senator Lisa Murkowski in Alaska's 2010 Republican primary. Murkowski went on to win the general election with a write-in campaign.
Begich holds a fundraising edge over Sullivan, who also served as Alaska's state natural resources commissioner. The Democrat had raised $8.3 million and had $2 million in his campaign account as of July 30, according to Center for Responsive Politics, a Washington group that tracks campaign spending. Sullivan had raised $4.1 million and had $993,000 in his coffers as of the same date, according to the group.
'Full Throttle'
In a fundraising appeal on Aug. 18, Begich sought donations so he could "go full-throttle into the general election."
"No matter who we end up facing, we know that they're going to have a ton of special-interest money behind them," Begich wrote in an e-mail to supporters.
A total of $7.8 million in outside money had flowed into the Senate race, with $1.8 million of that spent in support of Begich and $1.2 million opposing him, according to the Center for Responsive Politics.
Outside groups backing Sullivan include American Crossroads, a super-political action committee with ties to Rove that has spent $1.2 million so far on the race.
In one of the group's television ads, Rice touted Sullivan, a former U.S. Marine Corps officer, as "tireless in the defense of his country."
Sullivan's campaign sent an e-mail to supporters on Aug. 18, saying he has a "record of results for our state to paint a stark contrast with Begich's failed liberal record in D.C."
The amount of outside money likely to continue pouring into the race may make it harder for Begich to distance himself from his party's leader and the broader fight for Senate control, Duffy said.
The outcome "might have a lot more to with who's wearing a blue shirt and who's wearing a red shirt than the particular candidate," she said, referring to the "red" designation for Republicans and the "blue" for Democrats in U.S. politics. "In a state that favors Republicans, the state may just vote the way it usually votes."
Before it's here, it's on the Bloomberg Terminal.
LEARN MORE