Public Data Reveal Secret Rail Movements of Crude Oil
By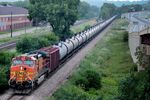 It's been almost four months since the Obama Administration ordered railroads to start giving state emergency officials details about their shipments of crude oil. The idea was that since these trains have a tendency to explode, and since they're often rolling right through the middle of towns and cities, the least they could do would be to tell local firefighters when they're coming. Not that municipal departments necessarily have the tools or resources to deal with 400-foot fireballs—but hey, knowing's half the battle. Right, kids?
The railroads immediately tried to get states to sign nondisclosure agreements, arguing that information detailing the movements of oil trains is dangerous and needs to be kept out of the hands of terrorists. Some states agreed to sign the nondisclosure documents (Arkansas, Kansas, Louisiana), but a lot didn't. Washington, California, and Wisconsin all refused, citing state sunshine laws that prohibit them from keeping public data secret.
Though some local officials say they're still having a hard time getting the data, enough of the info is being collected and released to the public to piece together some details on where these trains are headed. Some things we already knew: Almost all the trains originate in North Dakota, and many of them go east to refiners in the Mid-Atlantic, which have become dependent on taking cheaper U.S. crude rather than the pricier imported stuff. But other things are becoming newly apparent, such as how much oil gets railed through National Parks.
One environmental group, Forest Ethics, has used the data to figure out how many people are "in the blast zone" and at risk of exploding oil trains. The answer: 25 million. This week, Genscape, an oil surveillance business, released a white paper detailing the volumes of crude being railed around some of the most crowded corridors. This is the same company that flies helicopters over oil tanks in Oklahoma and uses infrared cameras to collect intelligence on oil movements across the country.
The Genscape report focuses on North Dakota and New York, two of the biggest hubs for oil trains in the U.S. Here's its map of the number of oil trains that move through each county in North Dakota each week, sorted by the railroad that moves them:

According to Genscape's analysis of the public data, oil trains go through 32 of North Dakota's 53 counties each week. BNSF is by far the biggest carrier, sending as many as 45 trains a week through Cass County, in the southeastern part of the state. About 18 terminals load crude onto trains in North Dakota. Genscape calculates that 522,383 barrels of oil per day were loaded onto trains in the state during the third week of July. That's actually down from the nearly 600,000 bpd that were loaded in there in January 2014.
A lot of the oil that leaves North Dakota arrives in Albany, N.Y., 1,800 miles east, which has emerged over the past year as a key oil hub, from which eastbound trains are diverted south. The biggest carriers there are CSX and Canadian Pacific. Genscape estimates that every week, CSX moves 20 to 35 trains though Albany County. A giant new rail terminal in Albany operated by Global Partners handled about 105,000 barrels per day during the third week of July, according to Genscape's calculation. In the map below, the routes are apparent by the county volume numbers.

From there, the oil heads south down the East Coast. CSX moves two to five trains of North Dakota crude through 20 counties in Virginia. Most of those trains end up in Yorktown, where the crude is unloaded onto barges and shipped to refineries in the Northeast, according to Genscape.  In early June, Genscape calculates that 61,643 barrels of oil were unloaded in Yorktown daily.
The picture is less clear on the West Coast, where moving crude by rail has faced more pushback from local and state governments. Washington state appears to be the main destination for North Dakota crude railed west, with BNSF typically sending about a dozen oil trains a week through 16 counties in the state. Some of that makes its way south to California, where Genscape calculates that BNSF typically sends a train a week through nine counties, starting in the northwestern part of the state and often ending up in Contra Costa County, on the east side of San Francisco Bay, where pipeline giant Kinder Morgan owns a loading facility.
What we're still waiting for is a comprehensive map or dataset detailing the volumes of all the oil trains spreading out across the U.S. There may always be some black holes where states have agreed to keep the data secret. But the more data that become public, the clearer the picture emerges.
Before it's here, it's on the Bloomberg Terminal.
LEARN MORE