Tourists, Police, and Elmo Tangle in Times Square
by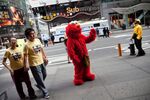 Times Square is one of the most popular tourist attractions in the world. About 312,000 people walk through the area every day. It features car-free areas, tables, and chairs; a Disney Store, a Hershey's store, and an M&M's store; and neon lights and Broadway. It seems a play land. Naturally, people dressed as Elmo, Spider-Man, and Cookie Monster pose for pictures with tourists. But guess what? Times Square hasn't been completely made over: A few of the colorful figures have been accused of harassing people for tips. One Spider-Man even punched a police officer who intervened in such a dispute. That doesn't look so good.
Recently police officers have been handing out fliers in five languages letting tourists know they don't have to tip these characters. Now the "actors" have formed a group, New York Artists United for a Smile, to boost their image and work with the police to protect their livelihoods. The city is considering licensing them; they say they'd like to regulate themselves. Sean Basinski, director of the Street Vendors Project, a group that supports the costumed workers, told the New York Times: "The city created a Disneyland here, and now they're upset that it's Disneyland."
Maybe this is the time to point out that companies such as Disney, Marvel, and Sesame Workshop are not encouraging the costume-wearing folks. In fact, in July, the Sesame Workshop stated that it "has not authorized the appearance of any Sesame Street costumed characters on public streets in any city." No one at any company has said what they'll do about it.
As for the tourists, maybe they really think they are in a Disney theme park, where tipping characters isn't permitted.
Before it's here, it's on the Bloomberg Terminal.
LEARN MORE