Mapping America's New Economy in Construction Permits
The Boston-Washington corridor is up; the Rustbelt and Sunbelt are down.
By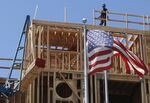 Here's a map of America's new economic geography as seen through construction permits from our friends at Trulia. It shows 2014 construction permits compared to their historical norms. Construction permits are a leading indicator of where growth is occurring and will continue to occur.

Permits are way up in the bi-coastal knowledge and tech hubs of the Boston-Washington Corridor and the Bay Area, as well as the energy belt that stretches from Houston to New Orleans. And they are way down in the old centers of the Rustbelt industrial economy like Detroit, and Sunbelt centers of sprawl like Las Vegas.
It's yet another indicator of the pattern of uneven development and regional winner and losers in America's emerging knowledge-energy economy.