Los Angeles Moves to Decriminalize Misbehavior in School
By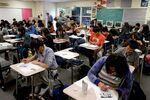 Los Angeles public school students caught possessing pot, defacing school property, or getting in fights will now be sent to administrators or counselors rather than cops, under a new policy announced this week.
"We want students to be with us, not pushed out and sent to jail," Superintendent John Deasy told the Associated Press. "We have been disproportionately incarcerating, disproportionately citing, and disproportionately suspending youth of color, and it's wrong."
L.A. has the country's second-largest school district and its biggest school police force. Under the new policy, police will be involved in major offenses, such as weapons possession, but generally not for petty theft or trespassing. The announcement follows a 2013 Board of Education ban on suspending students for "defiance" and a 2011 agreement with the federal Department of Education to track and address disparities in discipline.
Critics of punitive school discipline cite studies tying arrests or suspensions of students to dropping out of school, as well as racial disparities in discipline. Although less than one-10th of L.A. students are African American, black students accounted for almost one-third of L.A. school police's arrests last year and 39 percent of the district's citations for disturbing the peace. "Students really have been profiled inside the school setting, instead of getting the help they need from school counselors," Manuel Criollo, director of organizing at the Labor Community Strategy Center, which pushed for reforms, told the New York Times.
Education Secretary Arne Duncan and Attorney General Eric Holder have urged schools to curb practices that fuel the "school to prison pipeline." In a January letter accompanying a package of resources for school districts, Secretary Duncan wrote, "Unfortunately, a significant number of students are removed from class each year—even for minor infractions of school rules—due to exclusionary discipline practices, which disproportionately impact students of color and students with disabilities." Duncan cited department findings that schools were more than three times as likely to suspend or expel African American students with disabilities as white students without them. He urged schools to create "positive school climates"; establish "clear, appropriate, and consistent expectations and consequences"; and "understand their civil rights obligations" and track the impact of their policies.
Before it's here, it's on the Bloomberg Terminal.
LEARN MORE