Analysts at Goldman May Have the Perfect Entry-Level Job
By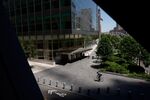 Entry-level finance workers at Goldman Sachs are about to start making even more money than they did before. New leisure policies at Goldman mean those salaries accompany a more forgiving work schedule. With junior employees making more money without having to sacrifice their personal life, there's little left to curb your banker envy.
Goldman Sachs junior bankers will get a 20 percent salary increase next year, according to Bloomberg News. Bloomberg Businessweek reported yesterday that policies such as Saturdays off at Goldman, enacted in response to the unhealthy effects of grueling workweeks that had become the industry norm, are making life better for analysts. The upshot: Young employees can have their cake (money) and eat it too (work-life balance).
Goldman's raises will apply to employees with the title of analyst, typically recent college graduates, across all divisions. At major Wall Street firms, analysts' typical base salaries range from $70,000 to $90,000, and bonuses bring the total compensation to as much as $140,000, reported Bloomberg News in October.
Employees at Goldman are already pretty satisfied. The company has a 3.6 rating (out of a possible 5) on job site Glassdoor.com, based on 1,679 employee reviews, compared with an average of 3.3 for all companies. "This is pretty darn good," says Glassdoor spokesman Scott Dobroski.
Still, it's possible that Goldman's raise comes as a way to improve junior employees' satisfaction and retention rates further as the fight for top Wall Street talent heats up. Morgan Stanley, which interns rated slightly above Goldman in a Glassdoor internship survey, also is raising salaries for associates and vice presidents by about 25 percent in its investment banking and underwriting units worldwide.
Before it's here, it's on the Bloomberg Terminal.
LEARN MORE