China's Snoozing Air Traffic Controllers Delay Flight Landing in Wuhan
Christina Larson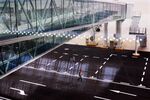 If you've ever spent time at Chinese airports, you may have wondered about the standard, all-purpose, and curiously opaque recorded message: "The flight has been delayed due to air traffic control." That can mean anything from weather delays, to aircraft malfunctions, to confusion in the air-traffic control tower.
Last month a China Eastern Airlines flight circling the city of Wuhan was delayed in landing—because two air traffic controllers were snoozing in the tower and failed to give the pilots landing instructions, Chinese media reported on Tuesday. For 12 minutes, there was radio silence. Fortunately, the plane, flight MU2528 from Sanya, later landed safely and without incident at Wuhan Tianhe International Airport.
Air traffic has increased quickly in China, but it's been a somewhat bumpy ride. More than 320 million passengers fly annually in China (counting domestic and international flights). That makes China the second-largest flight market in the world, trailing only the U.S. Fortunately, China's domestic airlines have a commendable safety record, in spite of the Wuhan snoozers. But Chinese airlines are also notoriously late.
Beijing Capital Airport is on track to become the world's busiest airport within a few years, predicts the Global Business Travel Association. According to the online service FlightStats.com, 21 flights departed Beijing's airport Aug. 19 at 1:00 p.m. (just to pick a random time). Of those, eight were late—that's 38 percent.
One challenge for China's aviation industry is that the People's Liberation Army controls more than 70 percent of domestic airspace, and it must grant approval for any flight route. The result is that planes must hew to narrow corridors and navigate routes that make little sense geographically (think of it as airspace gerrymandering). Another frequent problem is air-traffic congestion.
The recent Wuhan sleeping incident raises further questions about the level of training and supervision for China's fast-growing ranks of air-traffic controllers. The Air Traffic Management Bureau of Hubei, which has jurisdiction over Wuhan's airport, promises to improve its safety standards, according to Chinese media reports.
Before it's here, it's on the Bloomberg Terminal.
LEARN MORE