Robot Butler Debuts At Cupertino, CA Hotel
by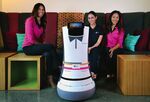 Having a digital assistant safely housed in your iPhone isn't exactly revolutionary in 2014, but what about one that rolls up to your hotel room door with those extra towels you needed? Tomorrow, August 20th, Aloft hotels will let a robotic bulter called A.L.O. loose in the halls of its Cupertino, CA property. The concept is intriguing enough that we'll almost forgive them for calling it a "botlr."
Aloft is the self-described "tech-forward, innovation hub for millennial-minded travelers" within the Starwood Hotels & Resorts portfolio. Previously Aloft has launched programs targeting younger customers such as a "Cool Concierge," and it was quick to add Apple TV to its list of in-room services. There's no doubt that Aloft wants to give the appearance of being a staunchly 21st-century hotel, and replacing soft white gloves with glossy white plastic is certainly one way to go about it.

Beyond contributing to Aloft's image, the A.L.O. robotic butler serves a variety of functional purposes. It has been programmed to traverse the Cupertino hotel on its own, even navigating and activating the elevators without assistance. Hotel staff can use A.L.O. to run items from the front desk to any guest's room, so personnel no longer have to spend their time taking forgotten phone chargers to the furthest reaches of the hotel. The staff member simply places something in A.L.O.'s two-cubic-foot locking chamber, tells A.L.O. where to deliver its payload, and the robot goes on its way. When A.L.O. arrives outside the room, it calls the appropriate guest, greets the guest at the door with its contents, makes the requisite robot "beep-boop" noises, and then goes right back home to the front desk.

"Technologies are not designed to replace people, especially at a hospitality company," said Brian McGuinness, Global Brand Leader for Starwood's Specialty Select Brands via email. "This new technology enables our hotel associates to make more time for what they do best; provide exceptional and personalize service for each and every one of our guests."
The Cupertino Aloft's A.L.O. is a custom-configured version of SaviOne, the first creation from Savioke, a firm creating robotic assistance devices for the service industry. The SaviOne is approximately three feet tall and weighs under 100 pounds. Critically, the SaviOne moves at a pace similar to that of a walking person, meaning it won't be buzzing obnoxiously around the corridors disturbing the guests it's there to help. Although it is a robot, SaviOne is meant to feel somewhat organic and to keep guests at ease instead of being obtrusive.
Satisfied guests can tip A.L.O in the form of flattering tweets, a common currency appreciated by human and robot alike.
Before it's here, it's on the Bloomberg Terminal.
LEARN MORE