U.S. Stocks Advance While Bonds Fall on Meeting Minutes
Jeremy Herron and Joseph Ciolli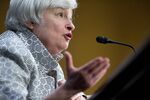 The Standard & Poor's 500 Index rose to within two points of a record after Federal Reserve meeting minutes indicated continued stimulus amid uneven gains in the labor market. Treasuries fell while the dollar advanced on speculation rates may rise sooner than anticipated.
The S&P 500 climbed 0.3 percent at 4 p.m. in New York, capping a 4 percent rally since Aug. 7. Ten-year Treasury yields rose three basis points to 2.43 percent. The dollar strengthened to an 11-month high versus the euro. Oil climbed for the first time in three sessions while gold dropped to a two-week low.
Fed officials raised the possibility that an end to aggressive stimulus might occur sooner than anticipated while acknowledging continued slack in the jobs market. Weak wage growth and low inflation have given the Fed room to hold rates near zero even as growth shows signs of accelerating. The Fed is on pace to end its monthly bond purchases in October, and plans to keep rates low for a "considerable time" after that.
"Investors are seeing that it'll take time to hit those inflation and unemployment levels that they're looking for," Stephen Carl, principal and head equity trader at New York-based Williams Capital Group LP, said in a phone interview. "It's imminent that tapering is going to end, so they're favoring the strong economy."
Employment Data
In their statement after the July 29-30 meeting, Fed officials downplayed recent declines in the unemployment rate, highlighting "significant underutilization of labor resources." Data since then showed employers added more than 200,000 jobs for a sixth straight month in July, the longest such period since 1997. The jobless rate rose to 6.2 percent as more people entered the labor force in search of work.
"Many participants" noted that if labor data moved toward the committee's objectives more quickly than expected, "it might become appropriate to begin removing monetary policy accommodation sooner than they currently anticipated," the minutes said.
There was no discussion of the timing of a rate increase in the minutes from the July 29-30 policy meeting. Officials have forecast that it would occur some time next year.
Traders saw a 52 percent chance the central bank will increase its benchmark interest rate to at least 0.5 percent by July 2015, futures contracts showed today. That compared with a 48 percent likelihood seen yesterday. The rate has been near zero since December 2008.
Right Reasons
Yellen will address global central bankers this week at a symposium in Jackson Hole, Wyoming. Policy makers including European Central Bank President Mario Draghi will also speak.
"If the Fed raises rates for the right reasons, meaning economic growth with reasonable inflation, that's good for the stock market," KC Mathews, the Kansas City-based chief investment officer at UMB Bank, said in a phone interview. "With companies beating earnings, the economy doing well, it gives an incredible backdrop for the Fed to raise rates without pulling away the punch bowl."
The S&P 500 yesterday capped a 1.4 percent rally over two days as a surge in home construction and slower price gains indicated a strengthening U.S. economy has yet to generate a sustained pickup in inflation.
The gauge has rebounded from a three-month low on Aug. 7, after tumbling as much as 3.9 percent from its all-time high on July 24 amid growing concern over global conflicts from Ukraine to Gaza and Iraq.
Treasuries, Dollar
Three rounds of Fed stimulus and better-than-estimated corporate earnings have sent the S&P 500 higher by as much as 194 percent from its bear-market low in March 2009. The gauge has not had a decline of 10 percent in almost three years.
The yield on the benchmark 10-year note touched the highest level in almost a week, according to Bloomberg Bond Trader data. The rate slid to 2.30 percent on Aug. 15, the lowest since June 2013.
The dollar rose 0.4 percent to $1.3262 per euro, after appreciating to 1.3356, the strongest level since September. The greenback climbed 0.8 percent to 103.78 yen after reaching 103.85, the most since April 4.
The MSCI Emerging Markets Index fell less than 0.1 percent after closing at a three-year high yesterday. The Fed minutes stoked concern that a sooner-than-anticipated rise in interest rates will prompt investors to shift money out of assets in developing nations.
New Zealand's dollar declined to a five-month low on speculation economic growth is waning. JPMorgan Chase & Co.'s Global FX Volatility Index rose to 6.16 percent, up from an all-time low on a closing basis of 5.29 percent on July 3.
West Texas Intermediate crude rose 1.7 percent to $96.07, the first gain in three days, after the Energy Information Administration reported U.S. inventories dropped last week.
Gold futures slid 0.4 percent to $1,292.20, as the stronger dollar cut demand.
Before it's here, it's on the Bloomberg Terminal.
LEARN MORE