Rome's Phantom Luggage Carts Show How Italy Fails (and Could Win)
by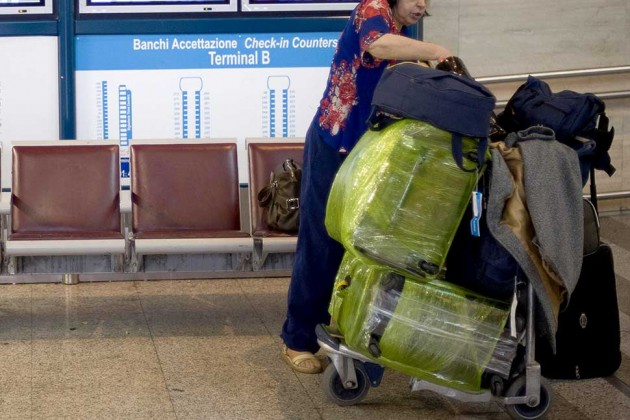 When Ivan Marinelli landed at Rome's Fiumicino airport a few weeks ago, he desperately needed a luggage cart. Saddled with oversized bags from his vacation in Finland, he searched both the international and domestic baggage claim areas, yet couldn't find a single set of wheels. Racks sat empty as Italy's high-season tourist lifeblood streamed through the terminal. "Nobody had a cart to transport their things," Marinelli, 40, recalls. "They just weren't there."
What had gone wrong was simple: After travelers used the carts and left them outside the terminal, nobody brought them back in. It's the kind of dysfunction familiar in Italy, where this month fresh data showed the country has slipped into its third recession since 2008. While tourism is vital in Italy, making up (PDF) about a tenth of both the economy and employment, visitors to the capital can't always count on getting their bags out of the airport.
The tale of the missing carts provides both a window into Italy's failings and a simple road map as to how it can ultimately succeed.
Marinelli took note of the scene at Fiumicino for professional reasons: He is the national vice president of a consumer advocacy group, Associazione Europea Consumatori Indipendenti. At one point during his hunt for a luggage cart, an employee of the airport management company, Aeroporti di Roma, told Marinelli he could pay a porter €4 per bag to haul his bags out. Marinelli declined. Instead, after getting permission from a police officer to exit the terminal and come back in, he grabbed a cart from the curb and retrieved his things. Back at his office, he dashed off a letter to Aeroporti di Roma, dated July 21, demanding an explanation.
At this point, you might assume he'd stumbled upon a classic European case of a state-run enterprise failing at customer satisfaction. Except Aeroporti di Roma has been fully privatized since 2000, and its parent company, Atlantia, is controlled by the Benettons, one of Italy's great capitalist families.
When Marinelli received his response from Aeroporti di Roma, he got a lesson in how Italian business sometimes works. To start, the letter said cart retrieval is the responsibility of a subcontractor. Additionally, it said the task had gotten harder since July 1, when the carts had been made free of charge, resulting in increased demand. As a result, Aeroporti di Roma had put its own employees on cart duty at additional expense to the company and was purchasing more carts.
What the letter didn't say is what new steps the company would take to fix the problem. Thirteen days after Marinelli wrote his letter, I landed in Rome with five checked bags—and found no available carts. One woman at baggage claim said she was trapped, having waited two hours for new carts to show up. Another woman traveling with a baby struggled to find money to pay a porter. I eventually found an unattended wheelchair that got my bags to the exit, where a customs officer agreed to bring me a cart from outside. The experience sparked this story. Later, I found that others had posted about similar adventures.
Asked for comment, Aeroporti di Roma said in an e-mail that its letter to Marinelli would be its only statement. Atlantia's press office didn't respond to requests for comment. As of this week, the problems restocking the cart racks appeared to persist, though at some times, on some days, they've been seen full.
The glimmer of hope for Italy? It's that what went wrong seems so obvious—and typical, Marinelli says. Management didn't plan ahead when it offered free carts. It also passed the buck to subcontractors. Workers at the airport, fully aware of the shortfall, didn't move to step in to help if that wasn't their job. In short, the business lesson of the phantom carts is to take responsibility, even if it's not specifically your fault or your job. If Italy could do that, its beauty and resources can help do the rest. "I have the impression it's hard to change things," Marinelli says. "But we'll try."
Before it's here, it's on the Bloomberg Terminal.
LEARN MORE