Li Ka-shing Says H.K. Needs to Overcome Democracy Divide
Vinicy Chan and Dominic Lau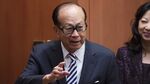 Li Ka-shing, Asia's richest man, said Hong Kong needs to overcome differences over the election of its leader in 2017, appealing for compromise amid a debate that's divided the city and spurred competing protests.
Hong Kong "should be determined to move forward," Li told reporters in Cantonese yesterday. In an English statement later, the chairman of Cheung Kong Holdings Ltd. said efforts for democracy will lead toward widening participation and won't be in vain.
Occupy Central, an activist group, has threatened to paralyze the financial district with mass sit-ins unless its demands for an international standard for the election is met, spurring opposition from businessmen including Li and a counter-protest by tens of thousands last Sunday. Li's comments yesterday balanced recognition of the divisions in society with support for greater democracy.
"Hong Kong society is deeply polarized," said Shalendra D. Sharma, a professor of political science at Hong Kong's Lingnan University. "Democracy is not only about elections but it's also the art of compromise. It remains to be seen if the different establishments with different interests can come together."
Hong Kong is set to allow citizens to pick their leader in 2017 after two decades when top officials were picked. The Chinese government, which will issue an initial ruling on the electoral methods at the end of the month, has insisted on having candidates vetted, against the wishes of some lawmakers and activist groups.
Reform Negotiations
Occupy Central's organizer Benny Tai has said protests may start in September if the Chinese government indicates there's no room for negotiation on the reforms.
"On the political front, there are many different opinions, requests and arguments," Li said yesterday in Cantonese. "Despite the differences, we should be determined to move forward."
A rally on July 1 for democracy drew 154,000 to 172,000 people, according to estimates by the University of Hong Kong. About 88,000 people turned up for an Aug. 17 march against the Occupy Central plans, according to estimates by the university.
"The progress towards democracy is the foundation to fortify the rule of law in Hong Kong," Li said in the English statement. "Every effort for democracy will not be a vain struggle as progress will arc towards broadening participation."
White Paper
Division in Hong Kong was further stoked after a white paper by China in June said Hong Kong government officials and judges should be patriotic. Lawyers concerned about the erosion of the independence of the judiciary have marched in protest.
Ambrose Lam resigned yesterday as president of Hong Kong's Law Society after his comments supporting the white paper led to a vote of no confidence against him. Hong Kong's Chief Justice Geoffrey Ma said judges should act only on the basis of the law and not be swayed by any other factor, the South China Morning Post reported on Aug. 17.
Li has previously spoken out against Occupy Central. Accounting firms including KPMG LLP and Deloitte LLP, the Hong Kong Securities Professionals Association, the Canadian, Indian and Italian chambers of commerce are among those who've said civil disobedience tactics will paralyze the city, drive away tourists and companies, and damage Hong Kong's reputation as a global financial center.
In June, Li told students at China's Shantou University that he has trouble sleeping at night because of a widening wealth gap and waning trust.
Popular discontent in Hong Kong has risen with a record wealth gap and a doubling in housing prices since 2009. With the economy slowing, Financial Secretary John Tsang on Aug. 10 said political instability may lead to a "perfect financial storm."
Before it's here, it's on the Bloomberg Terminal.
LEARN MORE