Life Is Actually Getting Easier for Goldman Sachs Interns
by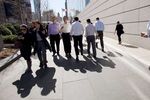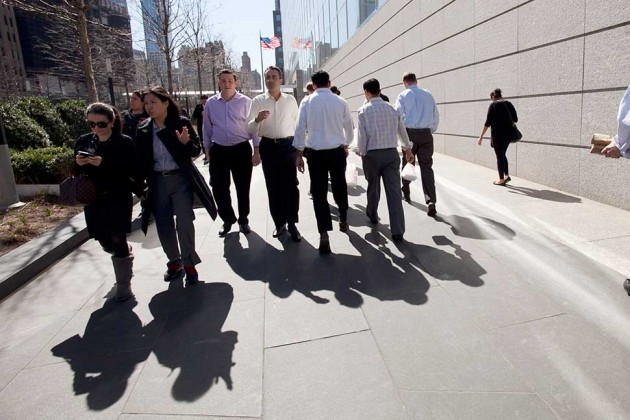 When someone gets irrationally excited about having Saturday off, it's a good sign they work in finance. The luxury of free time is new to young and aspiring investment bankers, from whom 100-hour workweeks were once commonly expected. It turns out there's little nostalgia for those days.
Banks have flirted with easing the pressures on young bankers ever since a rash of incidents such as the death last year of a 21-year-old Bank of America Merrill Lynch intern who had worked for three straight days sparked criticism of the industry's grueling schedules. A new survey shows that fresh-faced financial services employees are happier with the balance of work and play than they were a year earlier. The data were released in advance of an annual ranking of banks based on their employees' satisfaction conducted by career services website Vault.com. The 3,600 banking professionals polled rated their employers 3 percent higher on work-life policies than they did in 2013. They were also slightly cheerier about how many hours they're asked to put in overall.
"You get to workout [sic] and eat a relaxing dinner Monday through Thursday," an anonymous analyst told Vault.com.
That optimism could benefit investment banks, which are having some trouble attracting and holding on to young talent as salaries in the industry shrink. Firms work harder to compete for fresh recruits, who are less enamored with immense workloads when paychecks aren't comparably huge.
Many banks implemented new policies this year to improve working conditions and sate the younger generation's appetite for a personal life. Goldman Sachs announced in October that it was asking its youngest employees not to work on Saturdays. Banks such as Credit Suisse, Barclays, and JPMorgan Chase followed, introducing variants on that leisure policy with unsettling names such as "mandatory block leave" and "protected weekends."
Banking grunts, a group that once signed away any chance at life in the interest of proving its ambition, suddenly has a perk that money can't buy: time. Members seem fairly pleased about it.
"All of the new initiatives, such as no work on Saturdays for analysts and associates, have begun to change mindsets," an analyst told Vault.com.
The research suggests that the policies have a measurable effect. Analysts appreciate the extra hour or two at the gym. Executives, rather than dwelling on the industry's pressures, speak of the need for a well-rounded life. "You have to be interesting," Goldman Sachs Chief Executive Officer Lloyd Blankfein told interns last year. "You have to be somebody who somebody else wants to talk to." So, um, could you get that done by Saturday? Thanks.
Before it's here, it's on the Bloomberg Terminal.
LEARN MORE