Ferguson's McDonald's Becomes a Headquarters—and a Target
By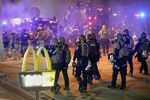 Amid the violence and confusion in Ferguson, Mo., a local McDonald's has become strangely central to the events as they've unfolded. With more than 14,000 locations in the U.S., it's no surprise that one of its restaurants is located on West Florissant, a main thoroughfare in the St. Louis suburb. Residents and others have marched along the avenue and clashed with police there to protest the shooting of Michael Brown by a police officer on Aug. 9.
The McDonald's, which is open 24 hours, has become the de facto headquarters for the many journalists who are now working in Ferguson. It has electric outlets, Wi-Fi, and coffee, but it's unclear how welcome the reporters have been. On Aug. 13, armed officers entered the restaurant and demanded that everyone leave. After reporters for the Washington Post and the Huffington Post tried to record the officers' actions and get their names, they were arrested, as Wesley Lowery described. They were told they had been trespassing. They were taken to a police station, held briefly, and then released. The manager of the McDonald's, Keith Eyer, told the Huffington Post: "It's just a terrible thing what happened… It's a rough time."
Four days later, the New York Times quoted Captain Ron Johnson, the Missouri State Highway Patrol officer brought in take over security, as saying that the police "had received reports that a McDonald's restaurant had been seized by the demonstrators."
When I called the McDonald's the next morning, the first person who answered said the restaurant's front windows had been broken but that it was open for business. When I asked about looting, he said "Everything's fine here." Eyer, he said, wouldn't be available until after lunch. When I called back, I was told that the restaurant was busy and Eyer wouldn't be available until tomorrow.
"There were crowds near the restaurant and people attempted to seek shelter in the McDonald's, and due to safety concerns, the restaurant needed to close for a period of time," Lisa McComb, a spokesperson for McDonald's said via e-mail. Later, she said that the restaurant was closed for the remainder of the evening and that the company is still gathering details on what happened. As for the the reports of employees hiding in a storeroom, she wrote back: "They were advised to—and some chose to of their own accord—move elsewhere for their personal safety."
There were also accounts of McDonald's employees helping some of those hurt by tear gas that evening. Apparently milk helps ease the pain. McComb said elsewhere that the milk was from McDonald's; the people using it weren't employees, though.
McComb also noted: "This is not about McDonald's. The focus should be on achieving peace in the community and ensuring safety for all."
Before it's here, it's on the Bloomberg Terminal.
LEARN MORE