pursuits
A Golf Cart on Steroids: Doorless 1962 Mini Fetches $181,000
By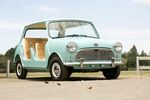 As car lovers the world over now know, a sinuous red 1962 Ferrari sold for $38.1 million at Pebble Beach in California last week—a record price at auction, but right in the middle of the expected range. Amid the hoopla, many overlooked the quirky little 1962 Austin Mini Beach Car that fetched $181,500, more than double its estimated value. If not quite Ferrari money, the sum arguably says more about the health of the classic car market.

Similar Minis from 1962 go for somewhere between $9,000 and $24,000, and their values haven't budged for years, according to auto insurer Hagerty. Those versions, however, had doors and B-pillars; the Beach looks like a golf cart on steroids.
Austin made only 15 Beach Minis—all with wooden steering wheels, "grab" bars for back-seat passengers, and rattan seat covers. The model that went on the block at Pebble Beach was painted in "surf blue" with a "snowberry white" roof. For years it sat in a San Francisco dealership–a wacky, four-wheeled billboard to attract new buyers. In 52 years it's been driven less than 12,000 miles.
James Knight, director of motoring at the Bonhams auction house, said the Mini's sale was one of the most remarkable results of the week's auctions, which drew $399 million for roughly 750 vehicles.

When it came to putting an estimated value on the car before the sale, Knight was stumped. "We're talking about something that just doesn't really come to market," he said after returning to London this week. "No one can really say with any kind of accuracy what it's worth."
Knight went with $70,000 to $90,000. He was way off.
How did Bonhams get almost $200,000 for the car? Knight told an interested party that if he didn't win the bid, he might as well cross the vehicle off his wish list. That subtle framing, plus a second keen bidder, gave the Mini more relative traction than the Ferrari.
Why does any of this matter? It's an indicator of consumer confidence. The record-setting Ferrari is the closest thing to a surefire investment one can find on four wheels. David Galenson, an economist at the University of Chicago, says the value of a piece of artwork over time is a direct reflection of its historical importance—how innovative the piece was and how much it's been copied in the years since. From this perspective, the Ferrari is pretty much without peer. For the conservative multimillionaire car collector, there's very little risk.
The beachy Mini, however, has none of those bona fides. It's not so much an investment as it is a conversation piece and a really cool way to go for ice cream. When people are paying $181,000 for that, things bode well for the economy at large.
The other takeaway from the Mini coup: In the car world, never underestimate the value of cool.
Before it's here, it's on the Bloomberg Terminal.
LEARN MORE