This Ice Bucket Challenge Better Be Over in 22 Days
By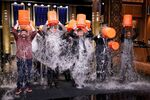 The Ice Bucket Challenge is taking over the world. Scores of celebrities—such as Bill Gates, Lady Gaga, Kobe Bryant, and Martha Stewart—are dumping buckets of ice water over their heads in a bid to bring attention to amyotrophic lateral sclerosis (ALS), also known as Lou Gehrig's disease.
The way it works is that after you dump ice water over your head, you challenge three more people to do it. Those three people have 24 hours to complete the dare.
So how long would it take for the whole world to complete the challenge? Twenty-two days, if everybody cooperates in the time allotted. That's when the number of ice bucket participants would surpass 7 billion, the world's population.
Most of the pickup would happen in the final three days—notice that the chart doesn't visually move the needle until the very end.
According to data from Brandwatch, a social intelligence company, more than 480,000 mentions of the challenge have appeared on social media in the past seven days (filtering out spam and irrelevant mentions). The trend tends to skew slightly male (55 percent to 45 percent) and has had more than 4 billion total impressions.