China's Tech CEOs Take the 'Ice Bucket Challenge'
Christina Larson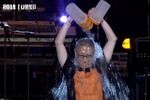 It's not too often that viral media memes in the U.S. make the leap to China, owing to language barriers and differences in humor and cultural sensibilities. But watching famous people get doused by buckets of freezing water apparently doesn't need much interpretation.
The "ice bucket challenge" started after an American named Pete Frates, a former college athlete, posted a video on Facebook calling on his friends to douse themselves with cold water to raise awareness of amyotrophic lateral sclerosis (ALS), a debilitating neurodegenerative condition also known as Lou Gehrig's disease.
That evolved into a viral campaign, so far attracting more than 30,000 participants: When someone posts a video of herself soaked in water on social media, she then challenges three other friends to do the same within 24 hours—or else they must make a $100 donation to the ALS Association. (Many people chose to do both.)
Not long after American tech titans Mark Zuckerberg and Bill Gates took the plunge, China's Internet elitewere also lining up to stand under buckets of frigid water—including Victor Koo, a co-founder of video-sharing site Youku.com, and Pete Lau, founder of device-maker OnePlus One.
The ethos of charitable giving is not well established among China's middle class, but social media stunts are popular. Perhaps that's what has enabled a fundraiser started in the U.S. to gain momentum across the Pacific.
As of Aug. 16, the campaign had raised more than $10 million for the ALS Association, including pledges from 220,255 first-time donors. The charity's chief executive, Barbara Newhouse, said in a statement: "The money and the awareness generated through this effort are truly game-changers in the fight against this disease."
Before it's here, it's on the Bloomberg Terminal.
LEARN MORE