Iceland Sees a Potential Volcanic Eruption, and Airlines Cower
By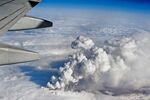 Airlines are hoping a volcano in Iceland won't reprise the 2010 "ash crisis" that shut down much of Europe's airspace and cost nearly $2 billion.
The Icelandic Met Office raised the aviation alert level to orange for the Bardarbunga volcano, following a major earthquake early Monday, the largest in the area since 1996. On the five-color scale, orange sits one level below red, which denotes an active eruption or one that is imminent. The 15.5-mile-wide volcano sits beneath Europe's largest glacier and rises about 6,200 feet above sea level. Bardarbunga began exhibiting increased seismic activity on Saturday.
The orange level indicates "heightening or escalating unrest" with a higher potential for eruption. "Presently there are no signs of eruption, but it cannot be excluded that the current activity will result in an explosive subglacial eruption, leading to an outburst flood and ash emission," the Met Office said.
The warning will ensure that airlines flying across the Atlantic monitor the situation; some are likely to alter courses between Europe and North America, given the risks. In April 2010, the Eyjafjallajökull volcano erupted and caused massive travel disruptions across Europe. More than 100,000 flights canceled, affecting about 10 million people. Some of the ash ejected by major volcanoes travels high into the atmosphere and can contaminate jet engines, leading to a power loss in at least seven of the 80 documented cases of commercial jets flying into ash clouds, according to the U.S. Geological Survey.
Before it's here, it's on the Bloomberg Terminal.
LEARN MORE