Palestinians Say Deal Reached to Extend Gaza Truce
Jonathan Ferziger and Saud Abu Ramadan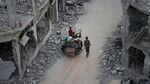 Israel and Palestinian militants agreed to extend their five-day truce for 24 hours for negotiations on a long-term accord to end violence that has devastated Gaza.
The extension was reported in text messages by Wafa and Mena, the official news agencies of the Palestinians and Egypt, which hosted the cease-fire talks. The Israeli government said in a text message that it agreed to the extra 24 hours.
The two delegations attending peace talks in the Egyptian capital have been laboring for five days to reach an agreement. The negotiations follow a month of hostilities that killed more than 2,000 Palestinians, including hundreds of civilians, and 67 people on the Israeli side, all but three of them soldiers.
Neither report indicated how close the sides were to reaching agreement on major points of contention.
Hamas has demanded an end to the blockade on Gaza that Israel imposed after the militant group won Palestinian elections in 2006. Israel has sought assurances that militants won't resume their rocket attacks and cross-border raids.
The European Union and the U.S. consider Hamas a terrorist organization.
Before it's here, it's on the Bloomberg Terminal.
LEARN MORE