Antique Shops Threaten to Flee New York Over Ivory Ban
by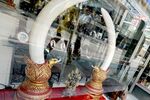 A New York State law imposing stricter rules on the sale of ivory and harsher penalties for violators has antique dealers threatening to move their businesses to friendlier states. Will they?
The law, signed by New York's Democratic Governor Andrew Cuomo on Aug. 12, is intended to halt the trade in illegal ivory that encourages poaching endangered species. It prohibits the sale of ivory that's less than 100 years old and also bans the sale of antiques in which ivory makes up more than 20 percent of the total material used. Some violations carry felony charges. The law covers ivory from elephant tusks, extinct mammoths, and rhinoceros horns. (Musical instruments made before 1975 are exempt: You can sell Grandma's piano, but not her snuff box.)
Antique dealers who oppose the deal say the fear of stiffer penalties and the hassle of documenting the provenance and composition of antiques will make selling ivory more trouble than it's worth.
That argument may hold true for some sellers. About 80 antique dealers had special licenses to sell endangered ivory under old state law, estimates Lark Mason, a Manhattan dealer who specializes in Chinese art. For his own part, Mason says he sold more than $2 million worth of rhino horn last year, accounting for roughly 20 percent of his total sales. Fear of losing a big chunk of his business has Mason considering a move to Texas.
Antique sellers who rely less on selling the banned materials might drop out of the ivory trade without such great consequences. That would shrink the market for private citizens looking to sell, though they could still offload their ivory in states with laxer laws. Dealers would have less latitude, though Mason says he expects a yearlong grace period to sell existing stock. If sellers liquidate, prices are likely to tumble.
Whether these factors will actually chase antique dealers out of the state is an open question. There's a long tradition of New Yorkers threatening to leave the state in the face of new tax policies or regulatory agendas. When it comes taxes, some research shows that wealthy residents are more likely to make noise about moving to tax havens than they are to actually leave the state. Ivory may be harder to come by, but New York's antique dealers are unlikely to face extinction.
Before it's here, it's on the Bloomberg Terminal.
LEARN MORE