The Moto 360 Smartwatch May Be So Smart That It Put Itself Up for Sale
By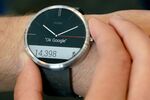 Here's Bob, cruising down the runway with the ooh-la-la, must-have watch of the fall: the Moto 360. The watch may look retro, with hands ticking away around the face, but those things are just for show. This bad boy is digital—and how, with a 1.5-inch backlit LCD screen, 320 x 290 resolution, and Corning's finest Gorilla Glass for protection. And, like Bob, this watch is from the future. It's voice-activated, tracks your steps and heart rate, annoys you all day with vibrations when people send messages, and is waterproof for up to 30 whole minutes, at which point the watch taps out and begs for a poolside margarita.
Yes, this will be the year in which gadget purveyors of all stripes do their very best to convince you of their smartwatches' merits. Best Buy apparently thinks the upcoming Moto 360 from (you guessed it) Motorola will be the real winner of the bunch. The retailer seems to have accidentally leaked some specs for the Moto, including a $249 price tag. Consumers will likely still need to wait until the planned unveiling on Sept. 4 to see if the watch lives up to the leak.
The Moto 360 is another Android Wear smartwatch, and it appears to be aiming for the high end of the market. LG sells a similar product for $229, and Samsung Electronics has the Gear Live, which comes in at around $200. Apple, of course, is expected to introduce its own smartwatch any day now and teach all these Android guys a lesson on how to make a wrist computer really expensive.
Where are Microsoft's smartwatches, you ask? Well, as with just about every device of the past decade, Microsoft invented it first, gave up on it, and then ended up late to market when people actually wanted to buy the thing. It's supposed to have a smartwatch coming in October. Here's hoping it runs Excel.
Before it's here, it's on the Bloomberg Terminal.
LEARN MORE