College Tuition Costs Soar: Chart of the Day
Michelle Jamrisko and Ilan Kolet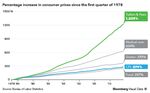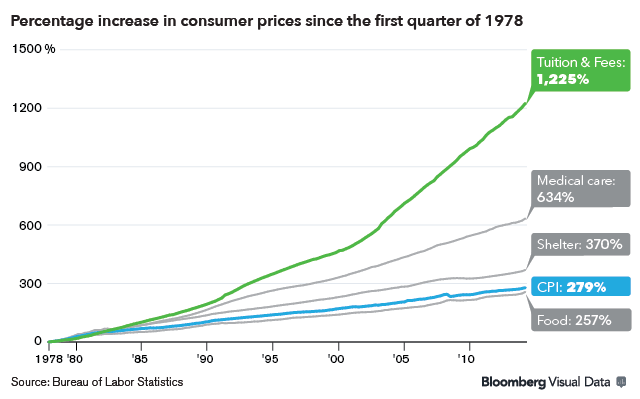 The cost of higher education has jumped more than 13-fold in records dating to 1978, illustrating bloated tuition costs even as enrollment slows and graduates struggle to land jobs.
The CHART OF THE DAY shows that tuition expenses have ballooned 1,225 percent in the 36-year period, compared with a 634 percent rise in medical costs and a 279 percent increase in the consumer price index.
Some for-profit schools such as Corinthian Colleges Inc. have collapsed amid enhanced federal scrutiny, and three of the nine worst performers in the Russell 3000 index are education companies. Yet university degrees are hardly on sale. The student loan debt burden threatens to overwhelm younger Americans, who already are finding a tougher labor market compared with their older counterparts.
"Some schools are effectively limiting cost increases by bigger tuition discounting, but on the whole college presidents have not adjusted to a fundamental shift in attitudes toward the value of a high-cost education," said Richard Vedder, director of the Center for College Affordability and Productivity in Washington. "Colleges are too slow to reinvent themselves," particularly as enrollments are waning, said Vedder, who is a Bloomberg View contributor.
Recent college graduates might be questioning whether they're getting what they paid for. Unemployment among those 25-to 34-years old rose to 6.6 percent in July, exceeding the 6.2 percent rate for all groups. The jobless rate for that age group averaged 5 percent in the four years leading up to the last recession.
Before it's here, it's on the Bloomberg Terminal.
LEARN MORE