Malaysia's Opposition Agrees to Remove Selangor State Chief
Chong Pooi Koon and Manirajan Ramasamy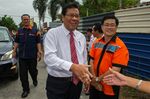 Malaysia's opposition Parti Islam SeMalaysia will support two partners in a bid to remove the chief minister of a state the coalition controls, averting a breakup of the alliance.
PAS, as the party is known, will nominate two candidates -- People's Justice Party President Wan Azizah Wan Ismail and Deputy President Azmin Ali -- to replace Khalid Ibrahim as Selangor's chief minister, Mohamad Sabu, deputy president of PAS, told reporters in Kuala Lumpur yesterday. The coalition later said it will submit only Wan Azizah's name to the state's sultan for consent.
Months of infighting has hurt the Pakatan Rakyat alliance, a disparate group led by Anwar Ibrahim and bound by little more than the aim of unseating the government of Prime Minister Najib Razak. The three parties in the coalition failed earlier to agree on who should head Selangor, the nation's biggest state by gross domestic product.
"The indecision shown by PAS -- they took two weeks to decide what everybody thought they will decide anyway -- has simply resulted in a greater amount of distrust toward them in the coalition," said Wan Saiful Wan Jan, chief executive of the Kuala Lumpur-based Institute for Democracy and Economic Affairs. "It will not break up the coalition, but it will certainly weaken the warmth and the trust."
Backed by People's Justice Party and the Chinese-dominated Democratic Action Party, Anwar has sought to install Wan Azizah, his wife, in place of Khalid. PAS earlier supported Khalid, citing his performance in the state.
Anwar's Stake
At stake for Anwar, who has led the opposition unsuccessfully in two national elections, is holding together the alliance as a viable alternative to Najib's Barisan Nasional coalition, which has governed Malaysia since its 1957 independence. The opposition leader faces a five-year jail term for sodomy should his appeal, set for an October hearing, fail.
The People's Justice Party removed Khalid from its ranks Aug. 9, prompting him to seek support from Selangor's sultan, the head of state. Khalid retaliated by firing five of six People's Justice Party and Democratic Action Party members of the executive council that runs the state government, leaving four PAS councilors in their positions.
The power struggle within Pakatan Rakyat could have resulted in a snap poll if there was no consensus. The coalition retained control of the state in a general election last year, and currently holds 44 of 56 state seats, 15 of them controlled by PAS. Najib's United Malays National Organisation party has 12.
Before it's here, it's on the Bloomberg Terminal.
LEARN MORE