Schatz Wins Hawaii's Storm-Delayed Democratic Senate Primary
Greg Giroux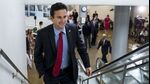 U.S. Senator Brian Schatz won the Democratic primary in Hawaii held Aug. 9 and completed yesterday to accommodate voters affected by tropical storm Iselle.
"I could not be more grateful, more thankful for the opportunity to serve Hawaii in the United States Senate," Schatz told supporters in Hilo.
The state board of elections reported that Schatz defeated U.S. Representative Colleen Hanabusa, tallying 115,401 or 49.3 percent to 113,632 or 48.6 percent, a margin of 1,769 votes.
Schatz led Hanabusa by seven-tenths of a percentage point - - 1,635 votes -- with all precincts except two reporting after the Aug. 9 primary. Hawaii election officials had postponed balloting in those two precincts on Hawaii's Big Island after Iselle made landfall there Aug. 8, causing power outages and affecting more than 8,000 registered voters.
A Hawaii court on Aug. 14 denied Hanabusa's request to delay yesterday's vote in the two precincts to give residents more time to recover from the storm.
Schatz, 41, outspent Hanabusa by $1 million during the campaign, the Associated Press reported. He is favored to win the Nov. 4 general election against Republican Cam Cavasso. Hawaii leans Democratic, and of the seven senators it has had since statehood in 1959, only Hiram Fong -- who served from 1959 until early 1977 -- was a Republican.
Schatz, who had been Hawaii's lieutenant governor, was appointed to the Senate in December 2012 following the death earlier that month of Daniel K. Inouye, 88. Inouye had held his seat for almost 50 years.
Governor's Pick
Democratic Governor Neil Abercrombie picked Schatz for the post over Hanabusa, 63, who Inouye in a letter shortly before his death named as his preferred successor.
Hanabusa's backers included Inouye's widow, while President Barack Obama --a Hawaii native -- supported Schatz. Obama carried with 71 percent of the vote in his 2012 re-election victory.
The winner of November's contest will serve the remaining two years of the term Inouye won in 2010. Schatz has said that if he retains the seat, he will seek a full six-year term in 2016.
Abercrombie lost his bid for a second gubernatorial term in the Aug. 9 Democratic primary, trailing state Senator David Ige by a margin too large to be reversed by the results from the two remaining precincts. Ige, 57, had 68 percent of the vote to Abercrombie's 31 percent.
Abercrombie, 76, had previously represented Hawaii in the U.S. House.
Before it's here, it's on the Bloomberg Terminal.
LEARN MORE