Missouri's Nixon to Visit Ferguson as Unrest Flares Anew
Toluse Olorunnipa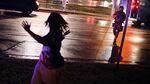 Missouri Governor Jay Nixon plans to visit Ferguson today after tensions rose anew last night with protesters storming the convenience store where an unarmed black teenager had been before he was shot and killed by police.
The governor will announce actions related to "safety and security" at 3 p.m. St. Louis time, according to an e-mailed statement from his office. He will meet with local leaders and discuss measures to "ensure public safety and civil rights" in the suburb.
Last night, police in Ferguson clashed with about 200 protesters during a four-hour standoff, at one point using tear gas and flash grenades. Some in the rowdy but mostly well-behaved crowd broke into the store before midnight and began looting it. Several other stores were also looted and some protesters hurled bottles and other objects at police.
The skirmishes marked the first confrontations since the highway patrol assumed responsibility for security in Ferguson on Aug. 14. Yesterday, after keeping his name secret for a week, authorities identified the officer who shot Michael Brown as Darren Wilson, a six-year veteran with no disciplinary record. Police also released documents describing the 18-year-old victim as a suspect in a robbery, which was recorded by a security camera shortly before his death following his visit to the store.
Officer Hurt
"They're really antagonizing the situation," said Justin Harris, a 27-year-old from St. Louis who was standing outside the convenience store as about 60 police officers in riot gear surveyed the crowd from about 200 feet away. "You've got all these people that have come peacefully, and the police showed up with the riot gear, SWAT trucks, assault rifles. What kind of message are they sending?"
Protesters and police stared each other down shortly before midnight, as an officer repeatedly told people to disperse or face "arrest and/or other actions." Earlier, police fired tear gas at the crowd after some protesters hurled bottles toward the armored trucks.
One officer was hurt during the standoff, according to the Associated Press, which cited Captain Ron Johnson of the Missouri State Highway Patrol.
The robbery assertion and police tactics angered some members of the mostly black community where tensions had begun to ease after Nixon ordered the troopers to take over security from local law enforcement.
"There is nothing based on the facts that have been placed before us that can justify the execution-style murder" of the teen, Brown's family said in a statement. "The police strategy of attempting to blame the victim will not divert our attention."
Cigar Box
Police Chief Thomas Jackson said Wilson had been alerted to the robbery but didn't know Brown was a suspect. The officer confronted the teen and a friend "because they were walking down the middle of the street, blocking traffic," Jackson said.
Police released the surveillance video from the convenience store that appeared to show a man pick up a box at the counter and then shove a smaller man who tried to stop him from leaving. Police said a box of cigars was taken.
Minutes later, police said, Brown was confronted by Wilson and fought with the officer over his weapon. Residents said Brown was shot while raising his hands in surrender.
FBI agents have questioned witnesses to the shooting and will be canvassing the area for others, William Woods, the special agent in charge, said late yesterday in a statement. The Federal Bureau of Investigation is working with the Justice Department's Civil Rights Division and the U.S. Attorney's Office, he said.
Blocking Looters
Though 67 percent of Ferguson's population is black, the city's police force has just three black officers out of 53.
While the changeover from local officers to the Missouri State Highway Patrol initially had brought a sense of calm as troopers shook hands and chatted with residents on the streets, officers returned last night with the military-style regalia, weaponry and gas masks that had drawn charges of heavy-handedness during the week. As looters rushed through several stores early this morning, police officers held back.
Some protesters lined up in front of the open stores in an attempt to block looters from entering. In addition to the convenience store, looters broke into a beauty supply store, an electronics shop and a liquor store.
Around 4 a.m., with the crowd mostly dispersed, police drove away in four armored trucks.
Nixon, a 58-year-old Democrat, said that the highway patrol is going to stay in Ferguson.
"There's a lot of steps between now and when justice is served and there will be bumps along the way, there will be more tension," Nixon said yesterday before the renewed clashes. "The focal point here remains to figure out how and why Michael Brown was killed and to get justice."
Before it's here, it's on the Bloomberg Terminal.
LEARN MORE