Brazil Socialists Pick Silva as Candidate, Folha Reports
Vanessa Dezem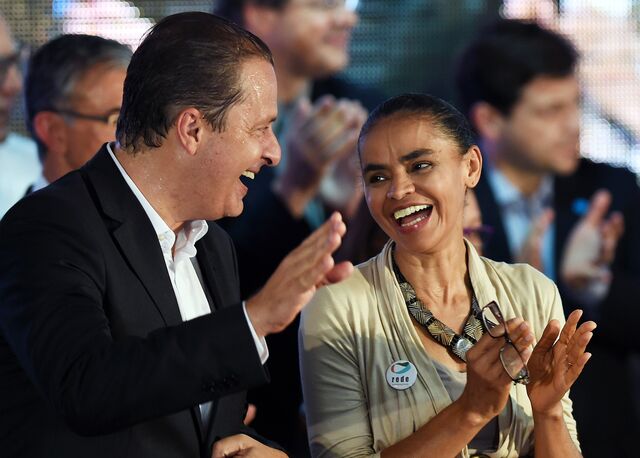 Marina Silva has been chosen by the Brazilian Socialist Party, or PSB, to replace Eduardo Campos as its presidential candidate after his death this week in a plane crash, according to the Folha de S.Paulo newspaper.
PSB and Rede Sustentabilidade, an environmental party that allied with PSB last year, have reached an agreement and will announce Silva's candidacy on Aug. 20. New PSB President Roberto Amaral was the last obstacle to her nomination, the paper said. Now PSB is discussing the choice of a vice presidential candidate, and the congressman Beto Albuquerque is being considered.
"It will be a continuity solution," Amaral said of the choice of Silva, who had been Campos's vice presidential running mate. She came in third in the 2010 presidential election with 19.6 percent of the votes.
Campos, four members of his campaign team and two pilots died in a plane crash on Aug. 13. Polling third in the presidential race against current President Dilma Rousseff and Senator Aecio Neves of the Brazilian Social Democracy Party, Campos was attracting enough support to limit the incumbent's chance of winning a majority in the first round of voting.
Campos's burial is set for 5 p.m. tomorrow.
Silva has agreed to run in the election, both Folha and the newspaper Estado de S. Paulo reported. Negotiations with the party accelerated after Silva received the public support of Campos's family.
Veja magazine columnist Lauro Jardim reported today that PSB conducted a phone survey on the day after the plane crash. In the survey, Rousseff led among voters, followed by Silva and Neves. In the survey's hypothetical runoff, Silva defeated Rousseff.
PSB's press office and Albuquerque didn't return calls seeking comment. Rede couldn't be reached.
Before it's here, it's on the Bloomberg Terminal.
LEARN MORE