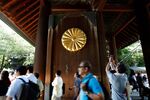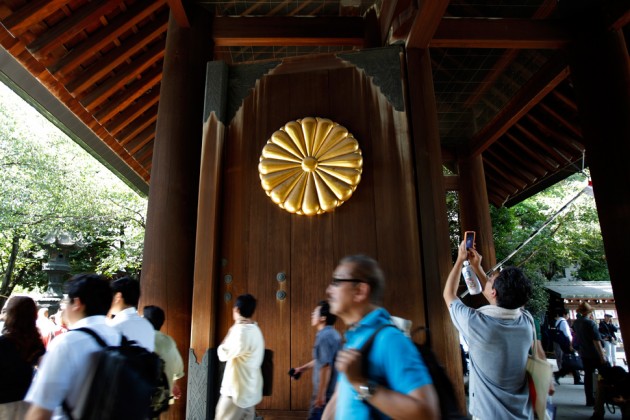 On Friday morning, while several members of his cabinet marked the anniversary of World War II's end by visiting a controversial shrine in Tokyo, Japanese Prime Minister Shinzo Abe wisely decided to sleep in. He had caused a storm last December by paying a visit to the Yasukuni Shrine, which honors Japan's war dead. By skipping Yasukuni, Abe may have improved the chances of a summit with Chinese President Xi Jinping that could help defuse tensions between the two countries.
The shrine has long been a problem for Chinese and Koreans. The Chinese media often refers to the shrine as "notorious." "Each and every visit here by officials upsets and incenses Japan's neighboring countries," says a Xinhua commentary published on Friday. The shrine is a symbol "of the brutality of Japanese rule and military expansion," Lee Won Deog, a professor of Japanese studies at Kookmin University in Seoul, told Bloomberg News. By visiting Yasukuni anyway, Japanese politicians show that "Japan continues to overlook the pain it caused its neighbors during its imperial expansion."
A look at the shrine's website shows why visits are so sensitive. In describing the shrine and the almost 2.5 million people it honors, Yasukuni does whitewash Japan's history of aggression toward its neighbors. Some of the souls enshrined at Yasukuni died as Imperial Japan colonized Korea and Taiwan, occupied Manchuria, and brutalized many parts of China. But according to Yasukuni's narrative, they died "to protect their country," and "all sacrificed their lives to the public duty of protecting their motherland." The shrine "is a place for Japanese people to show their appreciation and respect to those who died to protect their mother country, Japan."
And what about the World War II-era war criminals enshrined there? Yasukini says not that they were convicted, but rather, that some "were labeled war criminals" (emphasis added) and executed after trials by the victorious Allies.
Some Japanese politicians worry about the way the shrine talks about Japan's past militarism. Yasukuni "pays homage to war criminals, and exhibitions within its walls extol wars," former Japanese Prime Minister Tomiichi Murayama said in an interview with the China Daily published on Thursday. "I think the best solution is that prime ministers and cabinet members shun the shrine."
Abe, though, is trying to have it both ways: He didn't visit today, but two members of his cabinet did—and the prime minister sent a donation through an aide.
Not surprisingly, the official Chinese media is unimpressed. Reporting on the members of Abe's Liberal Democratic Party who went today to Yasukuni, Xinhua noted such visits anger "Japan's neighboring countries that suffered Japan's brutal aggression in wartime." Improving ties "are still impossible, even though Abe acted mildly on the Yasukuni Shrine issue this year," the Global Times newspaper wrote in an editorial published today. "Japan is losing its upper hand in the international community due to its irresponsible attitude toward history."
Before it's here, it's on the Bloomberg Terminal.
LEARN MORE